by Cindy Abole




Public Relations


Compassion, integrity, respect and service are just some of the humanistic qualities that patients seek when looking for a physician.

These qualities and more also describe the 20 senior medical students who were recently inducted in MUSC's Paul B. Underwood Jr. Chapter of the Arnold P. Gold Humanism Honor Society (GHHS). The students, as well as several role model physician-educators and medical school leaders, gathered to honor their humanistic character and commitment to medicine at a Sept. 30 induction ceremony and luncheon at the Wickliffe House.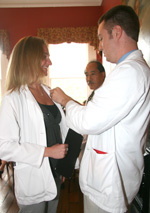 Medical students Payton Foust, right, pins Megan Lee during the Sept. 30 Gold Humanism Awards luncheon. They were among 20 inductees to MUSC's chapter.



New inductees were recognized by Jeff Wong, M.D., senior associate dean for medical education and GHHS Chapter faculty advisor. As the students were called forward and recognized, they were presented with an award certificate and GHHS lapel pin, which they pinned on each other.

Each year, the Arnold P. Gold Foundation sponsors the GHHS awards to promote excellence in medicine by emphasizing the relationship between practitioner and patient. The foundation strives to guide physicians-in-training by combining the skills and knowledge they learn in medical science with the attitudes and interpersonal skills of communication, empathy and compassion. The society recognizes the following attributes in a humanistic physician—integrity, excellence, compassion, altruism, respect, empathy and service. Students are nominated by their peers based on personal observations, standardized questions and other criteria. A nomination committee narrowed down the list of nominees based on who were the best communicators with their patients.

"These students deserve tremendous congratulations on this achievement," said College of Medicine Dean Etta Pisano, M.D. "We honor each of them for their demonstrated excellence and highest values on humanism, professionalism and compassion to others. It's my hope that they can continue to carry forth these attributes throughout their medical education and their respective careers.
"

The event also recognized the chapter's newest faculty inductee, Robert P. Turner, M.D., a pediatric neurologist and associate professor in the departments of neurosciences, pediatrics and Division of Biostatistics and Epidemiology.

In 2008, Turner was honored by medical students and peer faculty with the American Association of Medical Colleges Humanism in Medicine Award. Since joining MUSC in 1997, Turner has been recognized with a variety of clinical and teaching awards including the Golden Apple, Faculty Excellence, MUSC Excellence's Physician of the Month and area awards. He joined other GHHS faculty colleagues Patricia McBurney, M.D., associate professor of pediatrics, Matt McEvoy, M.D., associate professor of anesthesia and perioperative medicine and assistant dean for patient safety and simulation, and Rachel L. Sturdivant, M.D., assistant professor of medicine, Division of Nephrology.

"Being recognized by MUSC medical students for exemplifying what I love to do daily—teach, patient care, working with families encountering sometimes unimaginable difficulties—gives a wonderful boost when one is often tempted to grow tired in today's medical environment. However, my faculty and student colleagues in our MUSC chapter are so often the ones that I am emulating and learning from," said Turner.

MUSC's GHHS chapter was established in 2004 and named after College of Medicine educator and physician Paul B. Underwood Jr., M.D., associate dean for student admissions and professor in the Department of OB/GYN. Underwood has been honored for his humanistic values in medical education and practice. MUSC joins 91 medical schools in the country that host a GHHS chapter.

Recognizing humanism in medicine and medical education has been expanded for students in both elective reflective writing courses, ceremonies and other activities, according to Wong. Since 2006, medical students have participated in creative writing and humanities electives.



Paul B. Underwood Jr. Chapter of the Gold Humanism Honor Society Class of 2011


Christopher Ayers, Stewart Benton, David Bowen, Brandon Brown, Naylor Brownell, Kara Davis, Stephen Finley, Payton Foust, Kristina Johnson, Thomas Kandl, Kathryn Koval, Adonteng Kwakye, Megan Lee, Gabriella Maris, Stephen Martin, Katherine Mitchum, Wade Reardon, Robert Sweeney, Elizabeth White and William Wright.
College of Medicine's 2010 Fall Semester Awards (presented Oct. 28) -- recognizing academic excellence
Fullerton Foundation - Jane Blakely Andrews, Anna Hoffius, Jordan Fuson
Ralph Coleman Scholarship - Brandon Brown
AMA Foundation Scholars Fund - James Lucas McFadden, Vidya Fleetwood, Charles Cole Sims
Provost's Scholarships - Jan Vargas Machaj and Melissa Allen
Deans' Awards - Elena Gore Nathan Moroski, Craig Thomas Robert McCall, Matthew Davis Kristen Williams, Maria Shtessel Ebony Alston, Ryan Kroll Kathryn Glenn, Shana Coshal Lauren Moore, Kevin McElligott, George Huddleston, Amanda Tarnowicz Shakaria Johnson, Bassim Birkland Larry Shuler, Jonathan Brock Letitia Bolds, Anna Hicklin Sterling Jones, Marc McLawhorn Kevin Herman, Timothy Brand Tyler Pierce, Andrew Colhoun Jeff DeLong and Ope' Sobanj
Charleston County Medical Society - Maya Fields
Dr. Luther Bell - Jacob DeWeerth, Stephen Findley, Vivak Vasuki and Shauna Jenkins
DeWitt Harper - Rhonda Winchester, Zach Coffman, Evan Kane, Thomas Tyner, Crystal Johnson
Rene DeBacker & Hilda Spokheim DeBacker Scholarship - Adonteng Kwakye
Dr. Joseph Flowers Scholarship - Brandon Brown
Rich Scholarship - Jeff DeLong, Philip Kirn, Catherine Haar, Kristen DeYoung, Ashley Milligan, John Tucker, Matthew Huckaby, Kristin Arnold, Reid Chamberlain, Matt Kostura, Dezmond Sumter
Tatum Endowed Scholarship - Maria Shtessel
May Family Scholarship - Christopher Menzel
Class Scholarships - 1952- Christopher Houck; 1960- Robert Glass; 1978- Laura Martin
Chi Delta Scholarship - William Greer Albergotti
Marvin & Cleo Mcalhaney Scholarship - Jeanne Lumpkin
Dr. Allen G. Thurmond - Flora Simmons
Dr. W. L. Mills - Tucker Laffitte
Dr. Allen Johnson, Sr - Wade Reardon
Cathcart Family Scholarship - Timothy Kallgren
June Yarborough-Francis Marion Award - Lauren Tucker
Joseph & Celia Dobson - Amy Turner
Dewey & Alice Mollomo - Thomas Niemeier
J. Dill Pittman - Nekaiya Jacobs
The President's Basic Science Award -- Laura Smith
Andrea M. Trescott Excellence in Physical Diagnosis Award -- Laura Smith
Thomas W. Holbrook Award -- Melissa Allen and Greer Albergotti
American Society for Clinical Pathology Student Award -- Melissa Allen
McGraw-Hill/LANGE Medical Student Awards -- Brandon Bentzley and Elizabeth Van Cott
Stephen D. Canaday Gross Anatomy Achievement Award -- Brett Hoffecker
College Of Medicine Scholarship Recipients (2010-2011 Academic Year) -- James B. Edwards Scholarships -- Nina Serena-Burkett, Veronica Sue, Adriana Ramirez, Stephen Ramey, John Borkert, Matthew Wooster, Sanford Zeigler, Valerian Bruce, Marlon Clarke
James B. Edwards Awards
Christopher Smith, Carley Anderson, Conor McLaughlin, Brandon Marion, Gini Ikwuezunma, Ernest Murray
College Of Medicine Dean's Awards
Rahul Loungani, Chisom Ezenekwu, Amy Brown, Jonathan Berbin, Simon Lehtinen, Robert Sweeney, Rebecca Harris
Helen M. King Scholarship -- Christine Tennent and Katherine Mitchum
Conyers O'Bryan Scholarship-- Ashok Ramachandra and Michael Humeniuk
Dr. Thomas Antley Pitts Award -- Elizabeth Van Cott
Alpha Omega Alpha Honor Society
Members, Class of 2012 - William Albergotti, Melissa Allen, Isaac Dingle, Christopher Gault, Kevin Gibbs, Sean Marzolf, James McFadden, Daniel Pasko, Laura Smith, Robert Yawn
Members, Class of 2011 -- Christopher Ayers*, Michael Benton Jr., Kara Davis, Stephen Finley*, Robert Glass*, John Guthrie, Frances Hardaway, Loretta Hoover, Michael Humeniuk, John Hungerford*, Kristina Johnson, Christopher Kandl, Thomas Kandl, Felina Kostova, Megan Lee, Jason Lockrow*, William McKinney, Katherine Mitchum, Erin Mullaney, Ashley Parks, Ashok Ramachandra*, Michael Reynolds, Leslie Robinson, Eugene Sansoni*, Barclay Stewart*, Roger Sullivan*, Jan Vargas
(*elected as third year student)
Friday, Nov. 12, 2010