By Dawn Brazell




Public Relations


The moment's crystal clear in Dilantha Ellegala's mind--the moment he was hooked on global medical work.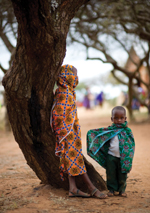 Tanzania has 5.2 health care workers for every 10,000 people, one of the lowest number of physicians per persons in the world.



The neurosurgeon had, through a series of coincidences, ended up in Tanzania after finishing his medical training. He had spent six months there training medical staff how to do basic neurosurgery. He went back a few months later, and a young technician took his hand and led him to a healthy, young man. He showed Ellegala a CAT scan of the patient's brain taken three months earlier that revealed a massive hematoma.
He was bleeding around the brain, said Ellegala, adding that the technician he had trained did a craniotomy and evacuated the blood clot. "That one moment crystallized for me what it was all about. Someone who would have died at 30 years old was alive."

The best part is that it was done without any Western aid. It was Tanzania medical staff saving their own, he said.

Ellegala would go on to found the Madaktari Africa Program in 2006, a nonprofit organization that provides medical training and education for the developing world. It operates with the philosophy that this kind of training will lead to a local, sustainable, self-propagating system of care, led by the people who live there.

This train-forward model, as Ellegala calls it, works. He's seen it demonstrated time and again. It's one reason he thinks Madaktari, which means physician in Swahili, has grown faster than he imagined it would. Madaktari is one arm of MUSC's Center for Global Health, of which Ellegala is the director. MUSC's involvement in its mission has spread across campus to numerous specialties. Physicians understand the model because it takes MUSC's mission of being an academic teaching institution and applies it abroad, he said.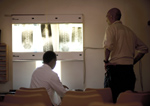 Dr. Ellegala (right) examines an X-ray at Haydom Lutheran Hospital in Tanzania.



In October, a team of MUSC faculty visited Tanzania representing MUSC's Center for Global Health. The team included: Eric Powers, M.D., and Peter Zwerner, M.D., from the Heart and Vascular Center; Ellegala, M.D., and Sunil Patel, M.D., from neurosurgery; Del Schutte, M.D., from orthopaedics; Carlee Clark, M.D., from anesthesia; and Anita Zucker—former chair of the MUSC Foundation Board. More areas will be getting involved, including the colleges of Pharmacy and Graduate Studies in January.

During the recent trip, Powers, Zwerner and Ellegala held several meetings with political and physician leaders in Tanzania, including President Jakaya Mrisho Kikwete. The discussion with Kikwete focused on future collaborations between MUSC, Madaktari Africa and the government of Tanzania about enhancing the training of health care workers and expanding health care capabilities in the urban and rural areas.
Powers and Zwerner also presented Dr. Mohamed Janabi with an adjunct faculty position in MUSC's Division of Cardiology. Janabi is a consultant cardiologist to the Muhimbili National Hospital in Dar es Salaam and is the head physician for the President of the United Republic of Tanzania. Janabi, who researches cardiovascular diseases and the immunology of HIV, plans to collaborate with MUSC faculty both locally in Tanzania and during future trips to the United States.

Janabi said the appointment will be of mutual benefit. "My faculty appointment at both Muhimibili and MUSC will benefit our two institutions greatly as there is much to be learned from both ends," he said. "MUSC will shift the knowledge from North to South in terms of human capacity building in health care and likewise, MUSC faculty, students and residents who visit Tanzania will learn much in practical manners."
Powers agreed.

"Dr. Janabi is a key member of the team helping to provide insight, medical expertise, vision, achievable goals and strategies to advance cardiovascular care in Tanzania. In addition, his personal contacts will facilitate achievement of goals. The importance of Dr. Janabi as a leader and colleague in our Tanzanian initiatives cannot be overstated."

Seeing the recent trip as a great success in terms of fact finding and relationship building, Powers said it was beneficial to spend time with political leaders and physicians. Several days also were spent in a small town providing care and identifying opportunities for teaching local health care workers ways to improve care of cardiovascular disease in their communities.

MUSC will be able to help develop programs in the countryside and also to participate in the development of an East Africa Heart Center in Dar es Salaam. Success with these projects will have an enormous effect on cardiovascular health in Tanzania and provide MUSC team members with unique opportunities for education and research, he said. "It's a way to have a substantial impact on the health of an enormous number of people."

As a premier medical university, MUSC must be a leader in global health, Powers said. "Globalization will advance all of our missions."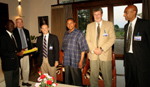 Dr. Mohamed Janabi (far left) meets with Drs. Eric Powers and Peter Zwerner, Tanzanian President Jakaya Mrisho Kikwete, Doyle Word, Madtari's executive director and Dr. Dilantha Ellegala.



Ellegala said the Madaktari Africa Program is an example of how nonprofits are working with MUSC's Center for Global Health to form effective, collaborative partnerships. The direct and indirect benefits of MUSC becoming more involved in global outreach is tremendous, he said, citing research and foundation grants that are in the works. There's also a team of radiologists coming here to train, who were funded by a grant from their government, and Tanzanian patients who will be coming here for treatment.

The Center for Global Health's website will go live in a few months, and Ellegala urges MUSC employees to "stay tuned." If health care is a business, then MUSC's global outreach places it in the international arena, he said. But more than that, it's about doing the right thing, he said.

"It's doing good in the world. It makes all of us feel better. It's great publicity, and it displays MUSC at its best."



Did You Know?



85% of Tanzanians live in rural areas with rugged roads and little to no transportation, often making access to health care difficult.
For information about Madaktari Africa, visit http://www.madaktari.org/#/about/
People interested in volunteering may contact Brittany Adams, administrative coordinator, MUSC Center for Global Health (adambr@musc.edu)
Friday, Nov. 26, 2010