Patients value freshness, support local farmers




by Cindy Abole




Public Relations


Prep cook Mary Goodwater loves to hear that the fresh fruit cups she makes every morning in the patient food service kitchen are one of the most popular menu items ordered by MUSC in-patients. Like most of the MUSC Food and Nutrition staff, Goodwater is up early and working in the hospital kitchen preparing and cutting up fresh melons, pineapples and strawberries as she creates 200-plus single serving cups and other food items for patients.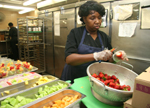 Mary Goodwater uses fresh fruit, locally grown fruit to prepare breakfast for MUSC patients.



What's key here is that Goodwater and a team of prep, line and satellite cooks are using fresh and mostly locally grown products. MUSC and Sodexo's goal is to provide patients, workers and the communities that they serve with healthier and tastier foods.

It's well known that hospitals and medical centers get no respect when it comes to taste and creativity of hospital food. This is a challenge MUSC Patient Food Services and At Your Request executive chef Brett M. Cunningham wants to change.

"It's my goal to try and change the mindset of all Americans that hospital food is changing for the better thanks to more hospitals like MUSC who are committed to supporting sustainable foods and local farmers. Because of this, we're providing both patients and our customers with healthier, more nutritious food items on our menus," said Cunningham.

Recently, MUSC and its food service partner, Sodexo, upgraded their patient food services program to offer a new food-to-order, computerized food system at Ashley River Tower (2008) and university hospital (2009). Sodexo's At Your Request (AYR) program offers improved patient meal preparation with a patient-centered approach to dining. According to Cunningham, patients enjoyed making choices from selections of freshly prepared and nutritious foods, which led to improved overall customer satisfaction. Its success inspired him, Brad Masteller, food and nutrition general manager, and other hospital chefs to consider expanding their goals for eating healthy by incorporating more sustainable foods and working with local farmers and food suppliers to provide more locally-sourced food.

As a large medical center and teaching hospital, MUSC uses a variety of food suppliers to provide products for both patient food service and retail lines. It's estimated that the university hospital's patient services group prepares about 1,500 meals per day and accommodates 52 different types of diets for adult and pediatric patients in the main hospital, Institute of Psychiatry (IOP) and IOP's Seasons, Impact and STAR Ladson treatment programs.

For produce and fruit, the hospital contracts with Limehouse Produce, a local business based on John's Island. Each weekday, MUSC receives one or two pallets of seasonable vegetables, herbs and fruits. In October, Cunningham, Fred Bennett, MUSC-Sodexo retail executive chef, and a dozen statewide and regional Sodexo hospital services chefs toured Rosebank Farms on John's Island to gain more insight about sustainability practices and to see the variety of produce being grown. Rosebank is one of several local farms that supplys Limehouse Produce.

When Cunningham began offering fresh green beans, zucchini, cauliflower and fresh fruits in the AYR menu's fruit cups, he got rave reviews from satisfied patients during his meal rounding with patients at the bedside. The MUSC Excellence Patient Satisfaction scores for Cunningham's araas have jumped higher than they have ever been since January. He attributes this to the improved quality of food and service.

According to Cunningham, Food and Nutrition is considering a partnership with seafood supplier, Lowcountry Shellfish, to provide quality products at reasonable prices.

Masteller also is proud that MUSC extends its sustainability practices beyond the food system. For several years, dietary services has supported food nutrition and healthy vending, improved food service ware products using biodegradable items and installed three water dispensers to reduce the use of bottled water in the cafeteria.

Masteller reminded employees that the cafeteria's eco mug program offers a 25 cent discount when they use their own cup for a fountain drink.

"It's a challenge to our customers," Masteller said. "The initiatives are there, but it's everyone's choice to take advantage of these programs to make a difference."

Friday, Nov. 26, 2010

The Catalyst Online is published weekly by the MUSC Office of Public Relations for the faculty, employees and students of the Medical University of South Carolina. The Catalyst Online editor, Kim Draughn, can be reached at 792-4107 or by email, catalyst@musc.edu. Editorial copy can be submitted to The Catalyst Online and to The Catalyst in print by fax, 792-6723, or by email to catalyst@musc.edu. To place an ad in The Catalyst hardcopy, call Island Publications at 849-1778, ext. 201.