Out of Africa


Researcher uses world as laboratory






by Dawn Brazell




Public Relations


Though Cynthia Cupit Swenson, Ph.D., travels extensively for her research and comes home to MUSC, a part of her heart always stays in Ghana.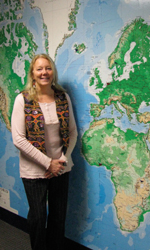 MUSC researcher Dr. Cynthia Cupit Swenson does extensive international work.



A heavy sigh escapes as she sits in her office surrounded by stacks of research papers. She's mourning the death of Rachael, a talented dancer from Ghana who died at age 13 because of a lack of medications and medical care. Ironically, Rachael's goal was to be a nurse. Boards being used to build a bookcase for Project Okurase, a nonprofit organization, were taken to build her coffin instead.

"We're going to call it Rachael's Hope," she said of a medical center to be built in the village. A fundraiser is being held through the holidays to raise funds to build a pharmacy and medical center in Ghana. The mission of Project Okurase (Opportunity, Knowledge, Understanding, Renewed Health, Arts-Based, Skills Training and Education) is to address the HIV/AIDS crisis and poverty conditions in Ghana by helping vulnerable and orphaned children. The project aims to provide skills training and formal education to children and women in need, connecting orphaned children with families, called Way Forward Families, to create the family and cultural connections these children used to have before the AIDS epidemic ripped up their villages.

A model of the Education and Arts Centre is in the foyer of the Family Services Research Center. It's the brainchild of Samuel Nkrumah Yeboah, who told her he put out prayers to the universe that the right people be sent to help his people find a way to better their lives and to harness their artistic talents.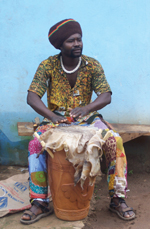 Powerful (Samuel Nkrumah Yeboah) plays his drum.



Though the drummer, known as Powerful, lived in Ghana, somehow Swenson, a clinical psychologist and researcher at MUSC got the message.

"I guess we kind of caught that prayer," she said, laughing. There couldn't have been a better person to catch it.

Swenson's an expert in Multisystemic Therapy (MST), which treats children by working to strengthen their "villages" of support, whether that be family, community or neighborhood units. She was doing a community violence project in Union Heights in North Charleston in the 1990s and became involved in developing a children's dance company, the Djole African Dance and Drum Company. They had a need for good quality drums, which led her to meet Powerful.

Not only did it lead her, but it also led to 40 people, including Eve Spratt, M.D., of MUSC, going to Ghana so the children could perform AIDS dances and dramas with Powerful and his performing artists in 2006, despite the $4,000-per-person cost that took two years of fundraising or that many of the children had never even been to the airport before. It changed lives, hers and theirs, she said.

One of the girls, who had a troubled childhood, made the trip to Ghana and was troubled by seeing a baby who couldn't be intubated properly and later died. "She made a decision on the spot that she was going to be a pediatric nurse. She's a high school senior now, and that's what she's going to do."

It brought gratitude into their hearts, seeing children play with sticks and guava fruit wheels as a toy, and still be happy as could be, she said. "It's made our kids be citizens of the world. It's helped them to be tuned into things that they wouldn't have been tuned into."

Though Swenson's research now has her in places from England to Switzerland, she always makes time to make it to Ghana, and she writes a blog for Project Okurase's website. "Everything I do in another culture makes me understand more. Working globally makes me see how critical a person's context is to them. If we want to do research for research's sake—for publication or for funding—or to deliver medical care to say 'I delivered medical care,' then we don't need to address anybody's context or culture. If we really want to make a change, we have to. That's why it's so important for MUSC to grasp globalization. It's not only about going to an international environment. It's about what's going on in our own backyard."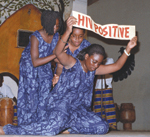 The Djole youth perform an AIDS dance and drama in Accra, Ghana in 2006.



Africa has a huge tradition of extended families and taking care of other families in distress. The AIDs epidemic has left a trail of more than 400 orphanages, which puts children in very difficult environments, she said. The vision of Project Okurase, which was founded by Powerful but is also her "baby," is to recreate that village feel in the center being built and provide a place for vocational and artistic training.

Though there are no toilets, clean water or electricity, Swenson said she can't think of a better way to spend her time. "It's very fulfilling. I feel like I'm part of a huge change process in this world. It feels like you're part of the family of a community. In the U.S., it's about doing huge things and bringing about small changes sometimes. In Ghana, you can do small things and see huge changes."

She looks forward to more people at MUSC becoming involved with the project. There are many ways to volunteer and there's a nonstop direct flight now from Atlanta to Accra, the capital city. "I would love to see people just come and stay in the village and see things you cannot imagine. It will change their lives. Every tiny, little thing is appreciated. Everyone is so welcoming."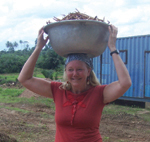 Swenson's travels require a balancing act, but it's worth it, she said.



Working in international settings has given her a broader way of thinking about culture and of family. She has no doubt that it has enriched her research. She loves getting on Skype and talking to someone in the village. "We're a global society because of the Internet. We're all one world. We're really a small world because of technology."

Swenson admits all the travel can be tiring, and it's not always fun staying somewhere without running water, but she wouldn't have it any other way.

"If I'm not doing something research-wise that's truly making a difference, then I need to just stop what I'm doing. There really needs to be a purpose in everything that I'm doing in my professional life or why am I doing it? My skills and my profession don't belong to me—they belong to the people I serve so I better be doing right by them. I'm so delighted that MUSC is embracing globalization. I think it makes us richer human beings."



Want to Help?


For more information on Project Okurase, to find out how to volunteer or to donate funds, visit http://www.projectokurase.org/ or call Dr. Cynthia Cupit Swenson at 843-876-1800, press 2 and then 22 to leave a message on her e-mail, or Dr. Eve Spratt, 843-876-0504.


Friday, Nov. 26, 2010