Bariatric surgery brings new lease on life




by Dawn Brazell




Public Relations


When Gay Littleton reached the 300-pound mark, she decided it was time. She had to do something about her weight.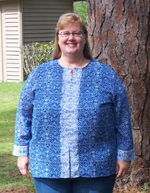 Before: Gay Littleton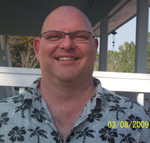 Before: Noah Littleton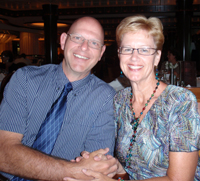 Noah and Gay Littleton enjoy a special moment on a recent cruise. Both had bariatric surgery to help lose weight and love how it has changed their lives so they can be more active.
She and her husband, Noah, came to an informational meeting at MUSC on bariatric surgery and met with a psychologist to make sure it was the right step for them.

"We didn't think we could change our lifestyles enough," she said of their efforts to manage their weights through diet and exercise. "We both had done everything. This seemed like it would have more of a permanent effect."

The two did have surgery, Gay in April 2008, and Noah in March 2009. Littleton said she's been surprised by how much it has changed their lives. She has lost 170 pounds because of the surgery and her hard work to make healthy behavioral changes. They wouldn't have had the success they've had, without the bariatric support team, including a nutritionist and physician assistant, she said.

She and Noah just returned from a cruise where, for the first time, they were able to sign up to do zip-line activities, something they couldn't do before because of weight restrictions. "I'm not saying I liked it," she said, laughing, "but I did it."

Something else she's enjoying more: Shopping.

"Shopping has become so much fun. I have to reign myself in sometimes."

She's able to be more active in her church and she's joined clubs. Littleton said the procedure helped her see results quickly and gave her the motivation she needed to stay on track. "It's definitely worth it," she said. "It has changed our lives in so many ways."

Noah's surgeon, T. Karl Byrne, M.D., said he wishes more people could have that experience. He's encouraged that a legislative proviso has established a one-year pilot program offering insurance coverage for 100 people who qualify for bariatric surgery as a treatment option for morbid obesity. These patients would have to meet certain criteria and be insured with the South Carolina State Health Plan.

"I welcome anything that will provide access to patients who need it. So even though it's only 100 patients, I'm glad it happened."

Believing in the effectiveness of the treatment, Byrne hopes this will be the first step in achieving universal coverage. The cost potentially carries a hefty price tag for the estimated 20,000 people on the state health plan who have the disease.



Want to Know More?


"Facts About Weight Loss Surgery" seminars are held the first Wednesday of the month, with the next one Dec. 1, from 5 to 6 p.m. in the first floor auditorium of Ashley River Tower. Registration is required. Call 792-3046, option 9 to register. At the end of the seminar, there will be discussion about issues related specifically to the State Health Plan pilot project. If anyone is interested and unable to attend the seminars, then call the number above.
Friday, Nov. 5, 2010

The Catalyst Online is published weekly by the MUSC Office of Public Relations for the faculty, employees and students of the Medical University of South Carolina. The Catalyst Online editor, Kim Draughn, can be reached at 792-4107 or by email, catalyst@musc.edu. Editorial copy can be submitted to The Catalyst Online and to The Catalyst in print by fax, 792-6723, or by email to catalyst@musc.edu. To place an ad in The Catalyst hardcopy, call Island Publications at 849-1778, ext. 201.