Champ, child's book helps in understanding of cancer


One of MUSC's former cancer patients became the first recipient of the Cancer Companion Program launched by the ASCEND Foundation.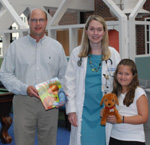 Former cancer patient Emma Louise Farmer accepts a stuffed animal and book from Russ Pritchard, president of ASCEND, and Dr. Michelle Hudspeth, director, Division of Pediatric Hematology/Oncology.
Emma Louise Farmer received a book and Champ, a stuffed Golden Retriever who represents the book's main character. The book helps children cope with cancer and offers caregivers and family members a tool to discuss the disease with children

The program is the latest initiative launched by the ASCEND (Anne Scandalios Cancer Ends Now Directive) Foundation promoting cancer education and prevention to children. The tool includes a fictional story book and stuffed dog.

Sherry North, a children's author, medical journalist and former medical producer for CNN Headline News, has written this story for the foundation to be used as an educational tool. Published by Sylvan-Dell Publishing, Champ's Story and Companion will be used by schools, hospitals, and children's cancer organizations to encourage a positive message to children who struggle with cancer in their family.
A national epidemic, cancer will affect almost 600,000 Americans this year. At the current time, there are few health programs in schools that discuss this disease. Cancer is a leading cause of death by disease for children, yet most schools do not teach or offer coping methods, address social issues or teach preventative methods in schools. Cancer not only affects the person battling the disease, but it affects siblings, children, and friends.

In addition to the program, ASCEND hopes to increase the education on the dangers and risks of: cigarette smoking, high consumption of saturated fat and calorie-dense foods, limited protection of sun exposure and reduced physical activity in children and adults.

For information, visit http://www.ascendfoundation.org or call 225.4055.

Friday, Nov. 5, 2010

The Catalyst Online is published weekly by the MUSC Office of Public Relations for the faculty, employees and students of the Medical University of South Carolina. The Catalyst Online editor, Kim Draughn, can be reached at 792-4107 or by email, catalyst@musc.edu. Editorial copy can be submitted to The Catalyst Online and to The Catalyst in print by fax, 792-6723, or by email to catalyst@musc.edu. To place an ad in The Catalyst hardcopy, call Island Publications at 849-1778, ext. 201.