College of Health Professions showcases success



The College of Health Professions held its annual awards ceremony, Showcasing Success,
Oct. 8 at St. Luke's Chapel. The following individuals were honored.



Quarterly Staff Champions (1st quarter):

Ann Brown and Debra Frasier



Staff of the Year:

Gary Melancon



Scholar of the Year:

Bonnie Martin-Harris



Outstanding Service:

Patty Coker-Bolt



Developing Scholar:

Lee Saunders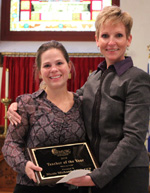 Dr. Lisa Saladin, right, presents Nicole Michaud with the Teacher of the Year Award.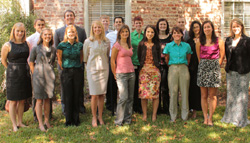 Scholarship Award recipients are front row from left: Lesley Dillard, Kelly Anderson, Kristen Merritt, Rebecca Jones, Andrea Grunberger, Amanda Cooper, Gretchen Reibold, Elizabeth Douglas and Sarah Enoch. Back row from left: Christopher Franz, Sean Wittorf, Steven Johnson, Steven Alvarez, Jill Polhemus, Melissa Turpin, Johnathan Ahearn and Tatyana McElveen.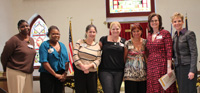 Presenting the Staff Team of the Year Award to Finance is College of Health Professions Interim Dean Dr. Lisa Saladin, right: Angie DeVeaux, from left, Debra Frasier, Shari Bergquist, Katie Weas, Paula Butler and Julie Parrish. Not pictured are Kristi Beeks, Marisah Daniels, Ashley Walpole and Karen Richardson.

Friday, Nov. 5, 2010

The Catalyst Online is published weekly by the MUSC Office of Public Relations for the faculty, employees and students of the Medical University of South Carolina. The Catalyst Online editor, Kim Draughn, can be reached at 792-4107 or by email, catalyst@musc.edu. Editorial copy can be submitted to The Catalyst Online and to The Catalyst in print by fax, 792-6723, or by email to catalyst@musc.edu. To place an ad in The Catalyst hardcopy, call Island Publications at 849-1778, ext. 201.