MUSC President Dr. Ray Greenberg reflects on 2010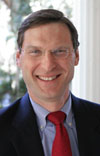 Has this year been what you hoped for MUSC?
Frankly, this year has exceeded my expectations. I had hoped, first and foremost, for stability as we continued to adjust to the new reality of the state and national economies. As we look back, it is clear that we did far better than hold our own; we moved forward on many fronts. The simple fact of the matter is that, once again, our amazing faculty and staff rose to meet the challenge.



What highlights stand out for you?


At the risk of failing to mention many important achievements, some definitely stand out in my mind. Raising a new record of philanthropy during a time of such economic uncertainty was remarkable, and allowed us to exceed our capital campaign goal by nearly 20 percent a year ahead of schedule. As in the past, this year we set a record for research funding again, not just for MUSC, but for all of the research universities in the state. The colleges of Nursing, Dental Medicine and Pharmacy sailed through accreditation visits and were uniformly praised by their peer reviewers. We successfully recruited a new leader for the College of Medicine and joined an elite group of medical schools led by women.We also recruited a number of endowed chairs—people who will help drive us to continued success in the future. A large and diverse group of faculty and staff developed a five-year strategic plan that will help to guide us into unchartered waters. Finally, we launched a campaign with the brand, "Changing What's Possible," which I believe speaks effectively to the role that we play in serving the people of South Carolina.



What can we be doing better?


We do so many things well, but at heart, we are a community of perfectionists, and we always want to do better. We should be guided by the emphasis areas in our strategic plan: encouraging entrepreneurial activity, driving innovation and new technology, expanding our global outreach, and working more effectively in interprofessional teams. As we do these things, we need to tell our story better, so that we are no longer "the best kept secret in South Carolina."



What surprised you this year?


In my job, surprises come every day, but the most pleasant surprise is how time and time again, folks within the MUSC family step up. Everyone on this campus is being asked to do more with fewer resources. We are all pushed hard and stretched thin. Of course, I do hear some complaints and, no doubt, there are many more that don't come to my attention. But more often than not, people have adapted to the "new normal" and our expectations for success have not dimmed in the least.



Where do you see us heading?


It is not enough for us to be leaders in the state, we need to be leaders in the nation, and indeed, in the world. I am convinced that despite the challenges that we face, MUSC will continue to emerge as a model for other institutions. We need to build on the strengths of the people who are here, while we continue to evolve in our culture and in our expectations. The financial pressures ahead will be great, but we must not let that impede our progress.


Friday, Dec. 24, 2010

The Catalyst Online is published weekly by the MUSC Office of Public Relations for the faculty, employees and students of the Medical University of South Carolina. The Catalyst Online editor, Kim Draughn, can be reached at 792-4107 or by email, catalyst@musc.edu. Editorial copy can be submitted to The Catalyst Online and to The Catalyst in print by fax, 792-6723, or by email to catalyst@musc.edu. To place an ad in The Catalyst hardcopy, call Island Publications at 849-1778, ext. 201.