Editor's note: Welcome to the Global Health page. The purpose of this feature is to raise awareness of global health issues with an academic spirit to help improve the quality of care provided to patients. E-mail globalhealthnews@musc.edu.

by Julia Kuhnert
Biochemistry & Molecular Biology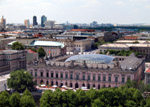 The Unter den Linden is a boulevard in the Mitte district of Berlin, the capital of Germany. It is named for its linden (lime in British English) trees that line the grassed pedestrian mall between two carriageways. In the background is the Potsdamer Platz. There are more than 82 million people living in Germany.

The Federal Republic of Germany, a federal parliamentary republic of 16 states, is located in the heart of the European Union and holds a key position in European affairs. It is recognized as a scientific and technological leader in various fields.

Germany implemented the first welfare state in the 1880s and even now has a comprehensive system of social security that is based on the legislation passed by Otto von Bismarck in the early 1880s. Every political party was involved and agreed on this important program that Bismarck started. Bismarck declared that the complaint of a worker was the insecurity of his existence concerning his job stability, his health and the incapacity of work due to a prolonged illness or to age.

Ever since, even during both world wars, the government has been working on adapting and improving the social system. The state presents the general framework that has to be met by health insurance companies. Every citizen is compulsorily insured, without discrimination between chronic disease patients and healthy people. Germany has a "worry free" health system, where patients have their choice of a physician and the insurance company handles the rest.

Employees and employers equally share the cost of health, disability and accident insurance. The health insurance contribution is a fixed percentage of the income. As an emergency response to the recession, the employee's proportion of those insurances was raised to 15.5 percent, which is a historical maximum rate. In 2010, the grievances and concerns of employees reflected not only the recession and the high taxes in Germany, but also the high costs of health, disability and accident insurance.

Fortunately, the economy is picking up now and the government is expecting to reduce the contribution by next summer to relieve citizens from the currently high payroll deductions.

Facts about Germany

There are more than 82 million people in Germany.

Germany is the only European country that has no overall speed limit on the highways. The so-called Autobahn is the oldest, and one of the densest, motorway networks in the world.
Germany is the homeland of numerous renowned scientists and theorists. They include Albert Einstein, Max Plank and Werner Heisenberg.

International Events
Sweet and Savory Bake Sale
11:30 a.m. to 1 p.m., Friday, Dec. 3 at the university hospital and Colbert Education Center & Library lobby A bake sale will be held to benefit the Hope Lodge and other community outreach initiatives. For information, call Rebeca Mueller at 79-2156.

International Holiday Festival of Lights
Saturday, Dec. 11 The bus will leave from the corner of Doughty and Courtenay bus stop (in front of the Strom Thurmond building) at 6:30 pm.

Hope Lodge Dinner
5 p.m., Thursday, Dec. 16

Visit http://www.musc.edu/international or
Facebook: MUSC International Programs


Friday, Dec. 3, 2010