Average holiday weight gain averages about a pound a year and tends to be higher for those who are already overweight or obese, according to Centers for Disease Control and Prevention and a study by the National Institute of Health.

But, it doesn't have to be that way.

With a little help from MUSC dietetic interns, this holiday season won't be a time for the dreaded weight gain, but rather, a time for celebration and enjoyment. On Dec. 8 from 10 a.m. to 1 p.m., a table will be set up outside the cafeteria in Ashley River Tower (ART), loaded with tips and tricks for a happy, healthy holiday. The menu will include:

An appetizer of recipe substitutions loaded with calorie-and fat-cutting suggestions

A hearty portion of well-seasoned advice to decrease intake and increase activity

Sides of "Make This, Not That" suggestions for your holiday table

Selections served up with examples and visuals to help control portion sizes
A dessert sample slimmed down to help curb the holiday waistline

Employees also may bring in a favorite recipe for a much-needed holiday recipe makeover and receive suggestions to create a leaner version. The goal of the season is to combat the extra weight that can be gained between November and January and that sometimes is never lost.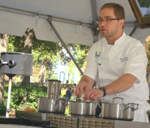 Chef Fred Bennett prepares a split pea and butternut squash soup, mahi mahi with braised fennel, Thai turkey salad with rice noodles and chicken and garlic fusilli pasta during the healthy live cooking demonstration Nov. 19. The show, sponsored by MUSC, East Cooper Medical Center, Roper Saint Francis Healthcare System, Trident Medical Center and the S.C. Hospital Association, demonstrated how employees can avoid holiday weight gain by cooking healthy.



Although it may not sound like much, that one holiday pound can quickly join other holiday pounds to become 10, 15 or even 20 pounds and more. The holidays can put people at risk for such conditions as diabetes, hypertension and stroke, given the holiday parties with friends and coworkers, dinners that often resemble a feast more than a meal, and cooler temperatures encouraging more sedentary activities indoors.



Food Swap to benefit food bank


This holiday season, join local Charleston-area nutrition experts in collecting canned goods for the Lowcountry Food Bank. During December, MUSC Employee Wellness, Sodexo Nutrition Services, and the Charleston Trident Dietetic Association (CTDA) will collect food items to donate to the Lowcountry Food Bank. In exchange for a donation, registered dietitians will provide holiday tips to help people eat healthier through the season.

The Food Swap will be held each Wednesday at the Wellness Wednesday booth at ART in front of the cafeteria and in the university hospital by Starbucks cafe. Additional barrels for food donations will be located at the Wellness Center and at the ART cafeteria until Dec. 17. The CTDA dietitians from around Charleston will collect canned goods and bring them to the MUSC Horseshoe at noon on Friday, Dec. 17, to be donated to the food bank. Healthy holiday eating tips will be available and the dietitians will bring some of their own special healthy holiday treats for tasting.



Health 1st events



Chair massages: Free massages are offered to employees on Tuesday nights and midday Wednesdays. Look for broadcast messages for locations and times.
MUSC employee fitness series: A free Pilates class will be held from 12:15 to 12:45 p.m., Dec. 14 at the MUSC Wellness Center. Participants will also receive a free one-day pass to the Wellness Center. E-mail barneslr@musc.edu to register.
Mobile mammograms: The Hollings Cancer Center Mobile Van will be conducting mammograms from 9 a.m. to 3 p.m. on Dec. 14 in the Harborview Office Tower parking lot. Call 792-0878 to schedule an appointment.
Farmers market December schedule: Friday, Dec. 3; Thursday, Dec. 9; Friday, Dec. 17; Wednesday, Dec. 22; and Wednesday, Dec. 29.
Contact Susan Johnson at johnsusa@musc.edu to become involved in employee wellness at MUSC. Events, classes or any other ideas are welcome.





Friday, Dec. 3, 2010