Researcher performs in local Broadway hit

by Ida Becker




Reprint from Charleston magazine


Tucked away in a corner office on the fourth floor of the MUSC's Women's Health building, where she's employed as a research associate, Tamara Saunders doesn't fit the image of a diva. She's fresh-faced, soft spoken, and exudes maternal warmth. But ask anyone who's heard Saunders sing, and the comparisons are immediate: Aretha Franklin, Diana Ross, and Jennifer Hudson.

An ensemble member of RENT, the award-winning Broadway production playing at the Charleston Music Hall through Feb. 14, Saunders holds her own amid a cast of professional New York City-based actors. She's particularly powerful in her gritty, expletive-laced tirade during "On the Street," a bold turn for a singer who made her debut at the age of eight with the Sunbeam Choir at Wesley United Methodist Church on John's Island.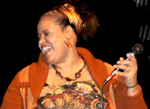 MUSC's Tamara Saunders takes the stage among the New York cast of RENT.

Photo by Ann Catherine Campbell



Saunders' entire life has been measured in music."My father owned a radio station called WPAL," she explains. "He would wake me up at night to listen to the new music, so I gained an appreciation for all types, including jazz, R&B, and soul." Her mother, whom Saunders credits with being the support system that enables her to juggle single motherhood, a career, and frequent singing gigs, taught her to love gospel. And the first album Saunders owned was of the five-octave range singer Minnie Riperton. "She's why I love the high notes," said Saunders. "People talk about Mariah Carey's voice, but I tell them, 'No, baby, listen to Minnie.'"

As a college student, she toured with The Mighty Kicks, a party band that specialized in beach music. "If it has a groove, I'm with it," she said. The job expanded Tamara's vocal repertoire to include shag staples, and it introduced her to the world beyond South Carolina. During spring break, she traveled to Panama and Honduras with the band, a trip that turned into a 45-day overseas USO tour with performances on remote military bases from Italy to Turkey, Korea to Japan.

The birth of her children and pursuit of a master's degree in business pushed singing to the back burner, but in 2001, she returned to her roots and joined the newly formed Charleston Symphony Orchestra Gospel Choir. "I couldn't—I can't—imagine life without music," she said. She's been an in-demand vocalist ever since, performing at weddings and private events, as well as in CSO concerts and the all-female gospel group Spiritually Yours, which she founded.

AlthoughSaunders belted out pop hits with The Mighty Kicks and once sang "Nothing Compares to You" at a birthday party that featured only Prince songs performed by a gospel choir backed by a rock-and-roll band (she calls it the wildest night of her life), she was surprised when RENT producer Lawson Roberts asked her to audition for the rock musical that depicts impoverished young artists struggling to survive AIDS and life on the streets. He, however, already had a vision that included her "class and exuberance. Tamara is one of those lucky finds who exists right here in the Lowcountry," saidRoberts. "There is no mistaking that powerful voice of hers; when she hits those notes in 'Seasons of Love,' it brings chills to every single audience member."

Reprinted with permission from Charleston magazine's Feb. 4 "On the Town" enewsletter:


http://www.charlestonmag.com.
Friday, Feb. 12, 2010

The Catalyst Online is published weekly by the MUSC Office of Public Relations for the faculty, employees and students of the Medical University of South Carolina. The Catalyst Online editor, Kim Draughn, can be reached at 792-4107 or by email, catalyst@musc.edu. Editorial copy can be submitted to The Catalyst Online and to The Catalyst in print by fax, 792-6723, or by email to catalyst@musc.edu. To place an ad in The Catalyst hardcopy, call Island Publications at 849-1778, ext. 201.