VP for academic affairs, provost receives top honor

The National Institutes of Health's (NIH) Center for Scientific Review (CSR) announced that its top honor for extraordinary commitment to peer review went to veteran reviewer John Raymond, M.D., MUSC vice president for academic affairs and provost.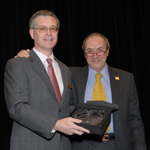 Dr. John Raymond, left, accepts his award from Dr. Toni Scarpa during the meeting of the NIH Peer Review Advisory Committee, in Bethesda, Md.



Raymond received the 2009 Marcy Speer Outstanding Reviewer Award, which highlights the vital contributions of CSR reviewers who evaluate NIH grant applications, Feb. 1. In an average year, about 16,000 reviewers volunteer about 150,000 days to assess the scientific merit of approximately 56,000 applications. Their scientific evaluations help NIH invest more than $20 billion in the most promising research grants, paving the path to biomedical breakthroughs that improve public health and save lives.

"Dr. John Raymond personifies the humbling dedication of our reviewers, who give so much to advance science and health here and around the world," said CSR director Toni Scarpa, M.D., Ph.D. "He has served at nearly 100 review meetings, demonstrating a tireless commitment to fair and rigorous reviews."

Raymond has many years of service, including a four-year term as a chartered member of CSR's Molecular, Cellular and Developmental Neurosciences-5 study section. When this study section evolved into the Molecular Neuropharmacology and Signaling study section, he took on the role of chair for two years to help it become established. Most recently, Raymond began another four-year term on CSR's Pathobiology of Kidney Disease study section.

"His commitment is all the more astonishing given his responsibilities at the Medical University of South Carolina," Scarpa said. In addition to his administrative duties, Raymond is a professor of medicine, a practicing nephrologist and an NIH-funded researcher. He also has a joint faculty appointment with the Ralph H. Johnson VA Medical Center.

Friday, Feb. 12, 2010

The Catalyst Online is published weekly by the MUSC Office of Public Relations for the faculty, employees and students of the Medical University of South Carolina. The Catalyst Online editor, Kim Draughn, can be reached at 792-4107 or by email, catalyst@musc.edu. Editorial copy can be submitted to The Catalyst Online and to The Catalyst in print by fax, 792-6723, or by email to catalyst@musc.edu. To place an ad in The Catalyst hardcopy, call Island Publications at 849-1778, ext. 201.