Students glean ideas from CARES clinic

by Wally Pregnall




College of Health Professions


Despite ongoing debate about reform of the American health care system, the concept of how to reduce health disparities is one that transcends cultures and political systems. While governments grapple with policy decisions, a recent visit from a group of Chinese medical school students demonstrates that solutions often come from the idealism and dedication of a few.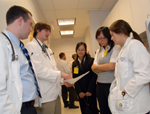 Visiting students Ying Han, center, and Mengyi Zha, second from right, tour the clinic Feb. 1 with MUSC students. In order to make student-run clinics feasible in China, the visiting students know they must tap into the spirit of volunteerism they witnessed from the MUSC students operating the clinic.



During her pre-medical studies at the University of Nebraska, exchange student Mengyi Zha, known to her friends as Zed, became interested in the concept of free, student-run medical clinics as a means of both learning and extending health benefits to those most in need. She began corresponding with friends and fellow medical school students at Peking University Health Science Center (PUHSC) in Beijing, who quickly became interested and wanted to learn more about how the concept could potentially be implemented in China.

With the support of PUHSC, Zed organized the fact-finding cultural exchange trip to the United States. The group visited the MUSC student-operated CARES clinic Feb. 1 where Chinese and MUSC students had an opportunity to interact. The Charleston leg of their tour was hosted by Wanda Gonsalves, M.D., of the College of Health Professions, who has been instrumental in developing student involvement in the CARES clinic. Gonsalves also is in the Department of Family Medicine and medical director of the Physician Assistant Program.

Prior to their Charleston visit, the Chinese delegation, which includes students from disciplines such as dentistry, biology, clinical sciences, and basic medical sciences, attended the 2010 Society for Student Run Free Clinics Annual Conference in Jacksonville, Fla. Their U.S. visit will also take them to clinics and medical schools in cities throughout the U.S., including Omaha, Neb., Chicago, Ill., and Pittsburg, Pa. In May, they will present a practical plan to school administration at PUHSC for potential implementation of a student-run clinic in Beijing.

In order to make student-run free clinics feasible in China, the visiting students know they must tap into the spirit of volunteerism they witnessed from the MUSC students operating the CARES clinic. Although policy and financial issues remain to be resolved, Zed believes if they start small, the concept will be successful and spread throughout other medical schools in China. Much like their MUSC counterparts, the Chinese students intend to lend their knowledge and idealism to provide very practical solutions to the universal problem of health disparities.

Friday, Feb. 12, 2010

The Catalyst Online is published weekly by the MUSC Office of Public Relations for the faculty, employees and students of the Medical University of South Carolina. The Catalyst Online editor, Kim Draughn, can be reached at 792-4107 or by email, catalyst@musc.edu. Editorial copy can be submitted to The Catalyst Online and to The Catalyst in print by fax, 792-6723, or by email to catalyst@musc.edu. To place an ad in The Catalyst hardcopy, call Island Publications at 849-1778, ext. 201.