Professors granted academic designation

Four MUSC professors received the highest academic designation Feb. 12 of Distinguished University Professor. The recognition went to Kathleen Brady, M.D., Ph.D., William Creasman, M.D., Andrew S. Kraft, M.D., and Joseph G. Reves, M.D.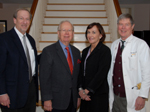 Distinguished University Professors are Drs. Andrew S. Kraft, from left, William Creasman, Kathleen Brady and Joseph G. Reves.



Prior to the induction of these four doctors by the MUSC board of trustees in February, only 28 individuals had received this designation. Distinguished University Professor status is granted to individuals who have been transformative leaders in their own fields of scholarship; contributed in substantial ways to the enrichment of the university; and made major career contributions during an extended time at MUSC.

The following are highlights of their accomplishments, according to a release from university news.

Brady is a clinical and translational scientist, mentor and leader. A 1983 graduate of MUSC, Brady, is a professor of psychiatry and behavioral medicine and helped spearhead MUSC's renewal of NIH support for the General Clinical Research Center, serves as principal investigator and director of the South Carolina Clinical and Translational Research Institute (SCTR), which was awarded an NIH Clinical and Translational Science Award (CTSA) last year.
Kraft is a clinician-scientist, administrator and leader. He is recognized as an international leader in unraveling the cell biology and biochemistry of cancer, and has published nearly 130 full-length manuscripts. Kraft's lifetime ambition is to cure all forms of cancer. He joined MUSC as director of Hollings Cancer Center, professor of medicine, and William H. Folk, M.D., Endowed Professor in 2004. He helped expand the scientific enterprise, clinical services, community outreach and facilities of Hollings Cancer Center. He spearheaded the successful application for designation by the National Cancer Institute of the NIH, which was granted in 2009.
Creasman is an internationally recognized leader in the field of gynecological oncology, a skillful clinician and surgeon, and astute academic leader and mentor. He made contributions to cancer prevention and control, translational research, and technical advances in surgical techniques for treating gynecological malignancies. He joined MUSC as chair of the Department of Obstetrics and Gynecology in 1986 and held the first Sims-Hester Endowed Chair and the J. Marion Sims Chair in Obstetrics and Gynecology. Author of 400 manuscripts, chapters, reviews and monographs, Creasman also produced a textbook, "Clinical Gynecologic Oncology," which is now in its seventh edition as the definitive textbook in its field.
Reves is a clinician, clinical investigator, teacher, administrator and leader. A native Charlestonian and graduate of MUSC, he rejoined MUSC as the dean of the College of Medicine, professor of Anesthesia and Perioperative Medicine, and vice president for medical affairs in 2000. Under his leadership, the College of Medicine has undergone tremendous growth, with focuses on excellence in all of its missions. He has been a leader in enhancing diversity of the student population, and has built a culture of financial accountability.
Friday, Feb. 26, 2010

The Catalyst Online is published weekly by the MUSC Office of Public Relations for the faculty, employees and students of the Medical University of South Carolina. The Catalyst Online editor, Kim Draughn, can be reached at 792-4107 or by email, catalyst@musc.edu. Editorial copy can be submitted to The Catalyst Online and to The Catalyst in print by fax, 792-6723, or by email to catalyst@musc.edu. To place an ad in The Catalyst hardcopy, call Island Publications at 849-1778, ext. 201.