Editor's note: Welcome to the Global Health page. The purpose of this feature is to raise awareness of global health issues with an academic spirit to help improve the quality of care provided to patients. E-mail globalhealthnews@musc.edu.

by by Anyanime Asuquo Edem, College of Pharmacy
Ginika Biko Ikwuezunm, College of Medicine
Traditionally, Nigeria, like most African nations, depended on herbalists, medicine men or "juju doctors" who were trained to identify, prepare, administer and cure ailments using herbs and roots. The advancements of modern medicine and western influence have mitigated such practices in exchange for contemporary avenues of treatment.

Those who can afford it rely on medical professionals rather than the herbalist. Some patients choose to combine herbs with medications. A Nigerian doctor may even discover ritualistic markings on their patient, an important clue to the past medical history of prior visits to the juju doctor.

Despite efforts to modernize medicine, Nigeria still has pressing health issues that include malaria, yellow fever, tuberculosis and AIDS. Amidst all of these problems, the most pressing and fundamental issues of health and poverty have been neglected. These forgotten issues, primarily cardiovascular disease and mental health, have received little mention. However, if unchecked they pose a major issue to Nigeria's overall success. A few Nigerians have chosen to take "the road less traveled." Dr. Ernest Madu, a former Vanderbilt cardiologist, is one of those individuals advocating a fresh perspective to address matters of the heart. He believes that people in developing countries like Nigeria have the right to high quality care.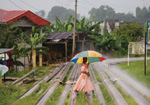 Oil pipelines run through a village in the Niger Delta.

"The quickest way to kill the progress of a country and spiral into a cycle of poverty is to kill the parents," he remarks as his thick Ibo accent booms over the loud speaker during a conference for progressive thinkers called TED (Technology Education Development).

Cardiovascular disease is the second leading cause of death behind AIDS in sub-Saharan Africa and the leading cause of death for individuals older than 30 in the region. It would appear that Madu's assertion is true as the past Nigerian President Alhaji Umaru Yar' Adua became the latest high profile Nigerian to fall victim to chronic heart and kidney disease at 56 on May 5, 2010.

Nigerian physicians trained in the U.S. and U.K., such as Madu, have opted to make specialty care in developing nations a reality. Utilizing innovations such as a telemedicine platform in his facilities, Madu consults physicians from around the world to address the most complex cases, giving optimal care to these patients.

In addition to cardiovascular disease, mental health issues have reached a boiling point in the country. Initially, like many other Nigerians, we ignored these issues and looked at the indigent population who are ambulating the streets as a public nuisance. I (Ginika) remember visiting Lagos last December for Christmas when one of these so called "mad men" accosted our vehicle and an episode that is commonplace in Nigeria and many African countries ensued. Among the herd of cars and okada (men on motorcycles) snaking
through the congested streets, one of these "mad men" approached. He was visibly disheveled, so we assumed the position. This meant looking forward and ignoring the gentleman in hopes that he would eventually leave. This effort proved futile, as he became agitated, pounded on the window and extended his hand demanding, "yem ego!" or give me money. We eventually gave into his request.

However later, while recounting the event, we became cognizant of this personal stigma that we experienced with our respective families. In Anyanime's case, her personal experience involved a neighbor, while my experience was with my uncle, Kristopher, whom we called "Teacher."

The inhumane treatment of these people we loved was utterly devastating, but reconvicted us with the responsibility to raise awareness about these issues and engage in local outreach.

Nigeria, like the U.S., has its own unique challenges with a complex economic and political climate.
However, it is our duty to ensure that our loved ones are not among the forgotten. In spite of all its idiosyncrasies and frustrations, ask any Nigerian and they will proudly tell you, this is home.

Facts about Nigeria

Health Care: Nigeria has a three-tier health care system. The Primary receives lo- cal and state government support. Secondary care is more specialized using referrals via outpatient and inpatient services. Tertiary care is centralized around highly-specialized services with a teaching hospital such as MUSC operating as a hub. In principal, this system works, but the critical issue is that government funds are misappropriated.
Clinician's corner
A 32-year-old female student from Nigeria presented to MUSC with a two day history of fever, sweats, headaches, chills and eye sensitivity to light. Her temperature was 101 F, pulse 110 per minute but otherwise hemodynamically stable. Examination revealed a soft ejection systolic murmur and signs of meningism, but her neurological status was otherwise normal. She noted that she suffered from a new onset anemia and did not use a bed net while in Nigeria. Of note, a review of her body systems was positive for intermittent fever (every 48 hours), fatigue, nausea, vomiting, diarrhea, abdominal cramps and joint pain. What is the likely diagnosis?
A. Dengue fever
B. Malaria
C. Giardiasis
D. Trichinosis

B. Malaria. This infection is caused by the protozoan (parasite) Plasmodium falciparum parasite. It accounts for 98 percent of malarial infections in Africa. The parasite lives in the gut of the female anopheles mosquito and is transmitted when it bites a human. Treatment with artesunate and sulfdoxine-pryimethamine is indicated in uncomplicated cases. For this severe case IV or IM artesunate/quinine is effective. Prevention with bed nets is indicated.


Visit http://www.musc.edu/international or
Facebook: MUSC International Programs


Friday, Feb. 4, 2011