To Medical Center Employees:
I am pleased to announce the medical center (MUHA) has made arrangements to enable transfer of paid time off (PTO) hours to support the humanitarian operations in Haiti. I want to thank Karen Cellars of Laboratory Medicine for her suggestion that we pursue this PTO transfer.

Instructions have been issued through separate e-mail to medical center employees and can be located at https://www.musc.edu/medcenter/news/haiti_relief.html. Employees may transfer from eight to 40 hours into a leave pool. A check will be written for the cash value of the leave and concerned employees' leave balances will be reduced by the amount of leave transferred.

Medical center employees will have until Feb. 27 to transfer PTO for this cause. Interested individuals are encouraged to complete the paperwork as soon as practical. A check will be written to the MUSC Haiti Relief Fund at the Coastal Community Foundation. Please read the instructions for additional details.

On another matter, at the Feb. 2 management communications meeting, Vince Dibble, manager, OCIO-IS Telecommunications and Network Services, announced to the management team plans to improve our MUSC telephone system to include caller display. Please see a letter from President Ray Greenberg, M.D., Ph.D., and an article by George Spain, Information Services, in this week's The Catalyst for additional details.

Finally, plans have been made for a series of 45 minute medical center town hall meetings beginning Feb. 18. Agenda topics will include our fiscal year goals, patient satisfaction results, culture of safety survey results, and other topics. Everyone is encouraged to attend. The tentative meeting schedule is below. Not indicated below are some town hall meetings for large departments that are being held in place of the routine department-based meetings.

Thank you very much.


W. Stuart Smith
Vice President for Clinical Operations
and Executive Director, MUSC Medical Center

Town hall meetings
Feb. 18: 3:30 p.m., IOP Auditorium; Feb. 19: 2 p.m., Room 120, Hollings Cancer Center; Feb. 22: 7:30 a.m., SEI Auditorium, and 3 p.m., 2W Amphitheater; Feb. 23: 11 a.m., 2W Amphitheater, and 3 p.m., ART Auditorium; Feb. 24:11 a.m., IOP Auditorium, and 2 p.m., SEI Auditorium; Feb. 25: 11 a.m., ART Auditorium; Feb. 26: 7:30 a.m., 2W Amphitheater, and 11 a.m., SEI Auditorium


People—Fostering employee pride and loyalty

Rebecca Nagy of LifePoint Inc., South Carolina's organ and tissue procurement program, recognized excellence among MUSC team of nurses, physicians and medical personnel committed to the process. Nagy praised the role of critical care nurses for contacting and working with LifePoint when they have a patient who is at end of life and a candidate for organ donation. She also presented a U.S. Department of Health and Human Services' (DHHS) Medal of Honor Award for achieving more than 75 percent organ donation rate sustained within a 12-month period.

Of the 31 people registered through the program, about 26 people were identified as eligible organ donors or 84 percent of the national average. Nagy presented the medal to the hospital's critical care nurses Grace Laird, Danielle Prox and Denise Batchelor of NSICU, Laura Zimmerman and Cindy Fuda of STICU and Leslie Cerenzia, MICU.

Patient Education Quality Award
Pat Cawley, M.D., Medical University Hospital executive medical director, and Natalie Carr, of the GetWell Network, of the hospital's patient bedside network for services and patient information, recognized employees for their efforts in promoting patient education and excellence.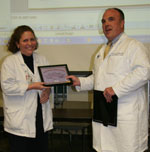 Christine Mancine accepts her GetWell Network award from Dr. Pat Cawley.

The 2009 awards were presented in three categories: Patient education engagement/greatest increase in completed educational videos—Gladys Villariza, R.N., 6E Transplant/Urology; Most completed education (overall)—Christine Mancine, R.N., Heart & Vascular Center; and Most Completed Unit Award—5East Children's Service/Postpartum, Kim Harris-Eaton, R.N.

HR update

Family Medical Leave Act (FMLA): 9-11 a.m., Feb. 18, Room 628, CSB
Human Resource Training— Completing HR Administrative Paperwork (PEARS, Separation Notice, FMLA, etc.): 9 a.m. to noon, Feb. 24, Room 628, CSB
Personnel File Review: 1 –2 p.m., 2 West Classroom
SuccessFactors—Staff qualifications from LDI databases are now appearing in SuccessFactors. Supervisors and staff can view the data in SuccessFactors. Data entry and reporting continues in the LDI database.

Job Description Manager module rollout is under way

HR is working with leaders one area at a time to load job descriptions
Job descriptions in SuccessFactors will be identical in each department by classifications
Leaders can prepare by starting to standardize job descriptions
Questions should be directed to Lynn Campbell, 792-1684 or Campbell@musc.edu

HML reminder

Tools available at LDI Web site under resources
2010 HML conversations should be completed by March 15
Contact Karen Rankine, 792-7690 or rankinkh@musc.edu

Benefit of the Month—February
Happy New You is a new promotion unveiled in January that promotes good health and prevention in the community. Employees can access free online tools to help them stay on track with their health resolutions. It offers online tools to support employees and their families.

Visit http://www.muschealth.com/happynewyou.

Annual Fit Testing
Wayne Brannan, University Risk Management director, spoke about changes connected with EHS Pre-employment/Post offer screening respiratory fit testing (N-95) As of Jan. 4, respiratory fit testing was included as part of new employee orientation and pre-health screening. Brannan also spoke about how Risk Management has collaborated with the South Carolina State Occupational Safety and Health Administration to improve the required annual medical questionnaire form for N-95 respirators. The new form, now available on the MUHA intranet under "respirator fit testing," meets required OSHA information to determine fitness to wear an N-95 respirator and has reduced the number of questions from 65 to 5. This should reduce the number of employees reporting to Employee Health Services with an answer that requires additional medical surveillance. Data related to this will be sent to Risk Management with future plans are to transition this information to employees' My records reports.

Caller display
Vince Dibble, manager of telecommunications and network services, OCIO-IS, presented information on the new Caller Display, an update to MUSC's telephone system on campus. Starting Feb. 17, calls made from an MUSC phone will now display a specific number on phones with Caller ID.

Caller display is what is sent and Caller ID is what is seen on the receiving phone. The change was prompted from the 15-year-old original phone system as a way to improve patient care and customer service, promote the values of MUSC Excellence and provide convenience for patients, students, MUSC employees and the community.

Before implementation, the system was pilot tested various inpatient, outpatient and administrative areas. Each area worked with a representative to assist in communications, education and monitoring. Results from the Pilot in these areas were both positive and favorable. Pilot areas included Radiology, Medical University Hospital's 5E, Communi-cations Call Center, University Internal Medicine, Specialty Care in North Charleston and the Office of the President and Vice President's offices.

Within administrative areas, all phones send a primary number as Caller Display to show up on Caller ID. Within inpatient areas, nurses' stations are programmed with a shared extension bridged on each phone. Patient rooms all have send Caller Display enabled. All other phones have primary extension of the phone as the Caller Display.

In outpatient areas, departments may choose a few multiline phones to be programmed with secondary bridged extensions for patient callback calls.

Model exceptions: Dialing #32 prior to an outbound call will block Caller Display; Call Centers—all phones will send main number as Caller Display; Users with multiline phones that have bridged appearances of other extensions other than their primary call appearance may obtain dial tone from the bridged appearance to send that number as the Caller Display.

Finance—Providing the highest value to patients while ensuring financial stability


Steve Hargett, medical center controller, gave the financial report for the six month period ending Dec. 31 fiscal year 2010 and fiscal year 2009.

Hargett reported that net income by the end of December was $22.7 million against a $13.4 million budget with 14.2 days cash on hand reflecting a continued positive trend with cash levels. The hospital's financial performance is a result of a busy census, controlling supply costs, improved productivity and higher case mix index and reimbursements. Hargett reminded managers that achieving 21days cash on hand is goal to help relieve MUSC's $20 million escrow cash on bonds with HUD. If MUSC demonstrates three years of positive operating income and 21 days cash on hand, the enterprise will receive those funds.

Announcements

Joan Herbert, MUHA director of organizational performance, reminded managers about progress with upcoming Employee Action Plan meetings as approved by Stuart Smith. She encouraged all employees to participate and share their comments about the plan. Herbert is available to attend area staff meetings to discuss the plan in detail. Contact Herbert, 792-0726 or herbertj@musc.edu.
The next meeting is Feb. 16.



Friday, Feb. 5, 2010