by Dawn Brazell




Public Relations


If you're being treated for cancer, there should be some perks – maybe a chance to get a massage or the latest nutritional information on how to boost the immune system.

That's the philosophy at the Hollings Cancer Center (HCC), which will hold the grand opening of its Integrative Cancer Care (ICC) center March 18 with a drop-in reception from 4 to 7 p.m. featuring wine and live music. The nonprofit center, which opened Feb. 8 in the space formerly known as The Looking Glass, is expanding its services.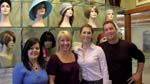 From left is Patty Hill, prosthesis fitter, Ullmann, massage therapist, Dominique Cassetori, manager, and Paul Falkowski, ICC director.



Debbie Bryant, director of outreach and support services, said the center is part a growing process that allows HCC to turn the page to offer more holistic services for patients and their caregivers. The center still carries wigs, hats and scarves and offers personalized fittings for breast and lumpectomy prostheses and mastectomy bras by someone with 10 years of experience. The services don't stop there, though. Visitors also can book a therapeutic massage, get nutritional counseling by a registered dietitian or buy nutritional products.

"We're excited because we can offer more. ICC is specialized and trained in an area that we did not have the expertise to provide on our own. Working with an outside vendor who is bringing new and exciting services that patients were really craving in this area is exciting for us."

Vicky Agnew, director of strategic communications at HCC, said she's a cancer survivor and wishes these types of services had been available when she had to undergo her treatments. She had to do her own research to gather the nutritional information she needed to better tolerate her treatments. She would have loved to have gone to one centralized place that had cancer services and products, nutritional counseling and massage therapy.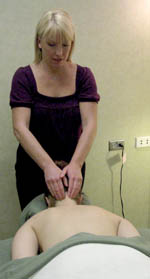 Laura Ullmann is one of the massage therapists at ICC who specializes in oncology massage.



"It's not just treating the patient or the disease. It's treating the whole person. This helps patients realize they're coming to a full center that cares about them as people. It has more of a healing element to it versus just treatment."

ICC director Paul S. Falkowski said he's excited that the center is the first integrative and complementary care center in Charleston and that it also is open to the community, including university employees and students.

Opening up the services to the community means raising money for the nonprofit center, which will help keep prices low, he said. It also will help to raise awareness of the center's services.
"We provide cancer patients all the tools to get through the rough times of treatment. Our goal is to help the body work optimally. Massage provides feeling of wellness, nutrition fuels and strengthens the body and immune system, and the aesthetics help people look and feel good."

The center is a dream come true for Falkowski, who received a certificate in medical massage for the cancer patient from Memorial Sloan-Kettering Cancer Center in 2004. He had been in Myrtle Beach working as a massage therapist with diabetes clients and found that the massage helped them with certain medical issues, such as peripheral neuropathy. He found the same techniques worked on chemotherapy patients. Soon, more cancer patients began coming to his practice, and he realized this was the kind of work he wanted to do.

Finding that most of his clients came to HCC for care, he decided to move to Charleston. Falkowski, a licensed massage therapist and certified nutritional counselor, worked at MUSC's Wellness Center, and contacted HCC for ways to provide services. He found a receptive and enthusiastic response from HCC's administration and staff.

All the pieces just came together, even in how the center is set up, he said. "It has been a community project."

Various companies and people have donated items, including artist Diane Seebeck who volunteered to paint a mural, and the Charleston Arts Coalition, which is providing rotating artwork. The store sells hand-made jewelry by MUSC physical therapy student Chrissy Freeman. Just the right people came together for his staff, and they are willing to work for what the nonprofit center can pay to make the dream become a reality, he said.

Falkowski said he's excited to see how the field of integrative care is changing, and he wants to be involved with research and the development of survivorship services.

"We're getting so good at healing cancer. People go through this amazingly difficult ordeal and then say, 'OK, now what?' There's nothing more rewarding than seeing someone coming in here who's losing her hair, and then see her leaving with a smile. It's deeply rewarding to give people something that can help them during one of the most difficult times of their lives."




Friday, March 12, 2010