by Dawn Brazell




Public Relations


Amanda Turner, R.N., made one of her mother's worst nightmares come true.

Turner, who graduated from MUSC's nursing school in December, has traveled internationally to do medical missions. Her mother was fine when she went to Mexico, and when she spent six months in Honduras, and even when she went overseas to Peru. "She'd say, 'I'm just so glad it's not Africa.'"

Turner smiled. She's in Africa this month as part of Palmetto Medical Initiative (PMI) to see about spending two to three years in Uganda to staff a medical center being set up there. The 23-year-old graduate likes the health care model of PMI, which is to establish mini-health care centers that will be sustainable by the local community.

Turner is one of eight women at MUSC honored this month as part of the National Women's History Project. The university solicits nominations for women to be featured during the month of March who exemplify leadership qualities and who make significant contributions in their fields.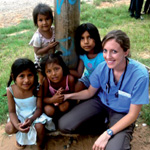 Amanda Turner is flocked by children following a medical clinic on a MUSC missions trip to Puerto Maldonado, Peru.



Carole Bennett, Ph.D., of the College of Nursing, said that Turner definitely meets the mark. When Turner brought one of the videos she had edited about one of her mission trips to a faculty meeting, there wasn't a dry eye in the room, said Bennett. She describes Turner as an enigma wrapped in a conundrum.

"She appears to be gentle, quiet, southern, and unassuming, and underneath that placid façade is a powerhouse beyond comprehension. She's fearless. She goes where no one else would go to and does what needs to be done. She's quite an inspiration."

Bennett predicts she'll be a major international figure in health care in some way, and she's excited that Turner will be sharing her experiences with other MUSC nurses.

Turner, whose father and grandfather are doctors, got hooked on medical missions while doing projects with her church. One involved her going to Honduras for six months in 2005 to work with orphans and neglected children. She worked as a house parent for 10 children as part of a ministry of the LAMB Institute. Her group worked to create a loving environment to serve as "rehabilitation" to allow the children to live with a family that loved them. "It was about learning to trust and learning how to be loved."

For Turner, it was about learning to trust in her faith. She said she has been blessed to make friends who have watched out for her in whatever country she has ended up serving.

"That was a very shaping experience. I lived in a slum there where you could wake up in the morning, and there could be someone dead on the street, and there were gunshots all night. It was not a safe place. Your neighbor might be starving. It was a like a big perspective check for a Southern daughter of a doctor who had always had everything that I could have possibly wanted. It made me grateful, and it also made me feel responsible."

Another shaping experience came when she went to Peru on a university-sponsored trip to provide medical missions to five isolated villages. Some of the children cried at the sight of them because they had never seen white people with blue eyes before, she said. She enjoyed giving out medicines, listening to their stories and educating them about basic health care.

"It broadened my horizons out of Honduras and Mexico," said Turner, who's fluent in Spanish and loves all things Hispanic. "I really thought I was going to move to Honduras after nursing school. Going to Peru made me realize I love a lot more countries than Honduras and Mexico. It let me see the need for rural health care and the need for education. That's when I started looking for an opportunity to be involved in missions to third-world countries."

After graduating from nursing school, all the pieces just fell into place to go to Africa, which both excites and terrifies her, she said. Turner, who worked as an interpreter at the university, already has started learning some of the three languages of the region. Sometimes when she hears of her nursing friends getting more traditional placements locally, she wonders if she's making the right decision. She always comes back to the same decision. It's right for her. She feels called to put action behind her Christian beliefs, she said.

"If what we believe is true, that God adopted us, then it's our responsibility to turn around and adopt other people who need to be cared for. I would like to make a difference in health care in places where, right now, they don't have any."

Her nursing class is very excited about her plans and some students have told her they want to visit her or follow her blog. She hopes to get more nurses interested in volunteer mission work. Mission trips are as much about the people on the trip as they are about the people being visited, she said. She also hopes to do long-distance learning at the university, which will allow her to share stories, photos and case studies.

"In the United States, the typical case study is an overweight woman who walks into your clinic with diabetes—what do you do? Over there, it's someone who comes in with bad skin burns or typhoid fever– what do you do?"

Turner just knows she wants to be there to do what she can. In Africa, she will have a bodyguard and a housekeeper, two people whom wealthy Americans are expected to hire while they're there. She also is comforted that she'll be going with a close friend who felt the call to serve in this area. Her faith is her main assurance, though, she said. "The timing was right, and the need was there. I feel like I just take the next step, and every time I take the next step, there's something there to stand on, but I really don't know how I get there."



The National Women's History Project, founded in 1980, is a non-profit educational organization committed to recognizing and celebrating the diverse and significant historical accomplishments of women. The national theme this year is "Writing Women Back Into History" in honor of the 30th anniversary of Women's History Month celebrations. For information, visit

http://www.nwhp.org/whm/index.php.



Friday, March 12, 2010