Researcher looking to cure Alzheimer's




by Dawn Brazell




Public Relations


If you want to lose weight, then you might think about hanging out with MUSC researcher and fourth-year graduate student Linnea Freeman.

If her research doesn't convince you to lay off the fast-food, then her Tae Bo exercise class at the Wellness Center at least can help reverse some of the damage. Freeman said her long-term interest in health and fitness has been one of her inspirations to log more hours in the laboratory. She has ambitious goals. She wants to help find a cure for Alzheimer's disease.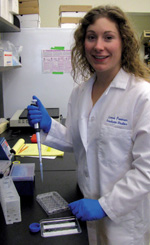 Linnea Freeman



"You have to have some kind of tie to your research and keep reminding yourself this is why I do it. It gets hard sometimes when you keep trying a new experiment, and it doesn't work. And the rats can be really finicky," Freeman said, smiling and shaking her head. "They won't always do what you want them to do."

Freeman, whose friends describe her as bubbly and enthusiastic, is one of eight women at MUSC being honored in March as part of the National Women's History Project.

Working in the Department of Neurosciences, Freeman currently is researching the role of a high-fat diet on the brain. She has several research projects in progress. One of her latest projects involved 12 days of handling dozens of wet, swimming rats. About halfway through the rat handling, she had had enough and called her mother, one of her role models, to vent.

"She told me, 'Remember, you're going to cure Alzheimer's disease before I get it. No pressure, though!' " Freeman, who credits her mother for her work ethic, headed back to the lab. Having a grandparent and an aunt who suffered with the disease, she's committed to any research that might shed light on combating it.

Excited to have received a grant from the National Institutes of Aging for her current research that runs through September 2011, Freeman is exploring the effect on memory that a long-term diet high in saturated fat and cholesterol will have. For those who enjoy fast food, the preliminary findings are not good.

"Even though all the neurons are intact, there's a loss of protein expression of certain markers in the hippocampus. There's a decline in neuronal health."

Freeman's face lights up when she talks about the hippocampus, her favorite part of the brain. When she sees inflammation in that area, it means trouble. One part of her research is to look at the blood-brain barrier to see is there's a breach in that area caused by diet.

"It's known that obesity and high fat diets can cause a chronic inflammation in the body that can lead to heart disease, cancer, stroke—so many different problems. If that's all happening on the periphery, then something's probably happening in the brain too, and the hippocampus is a very vulnerable area based on its vasculature."

Another study she's in the process of getting published looks at whether saturated fat, cholesterol or transfat alone can affect the brain. She found that each has a different damaging effect. "When you combine all of them together—which is kind of what the Western diet does—basically like having french fries and a burger, they become like this perfect storm all together."

When she talks about her research, sometimes people get angry because they think she is saying that overweight people will have memory problems or are not as smart.

"That's definitely not the case. It's not about weight really. It's about the composition of the diet and whether their cholesterol is high and their triglycerides are high, and whether they have more inflammation."

The good news is that other research she's been involved with has found that diet can have a positive impact on brain health. She participated in a study published in the journal GLIA that examined the role of blueberries as an antioxidant to prevent damage in the brain, finding that blueberry supplementation had a direct effect on anti-inflammatory processes occurring in grafted tissues.

One of her mentors in the research department is Ann-Charlotte Granholm, Ph.D, who said the best word to describe Freeman is enthusiastic. "She has an interest for everything all the time. It is refreshing," said Granholm. "Her enthusiasm makes her willing to work relentlessly to get things done and no method is too difficult for her if it will further her research goals."

Her other strength is she is very collaborative, working with others for the greater good and volunteering her time on community service projects, she said. "It is not enough for Linnea to determine why high-fat diets are bad for the brain; she also wants to go into classrooms and the community to train people to eat better. She wants to change the world."

Freeman, who is president of the Graduate Student Association (GSA) and a former Presidential Scholar and Fellow, said that she loves being involved with student groups and doing service projects as often as she can. She's been involved with several groups, including the Junior Doctors of Health and GSA's GROWS program or Graduate students Reaching Out With Science that provides educational programs for middle-school students.

The Massachusetts native will be finishing her doctorate next year, and then moving on to do her post-doctoral work, but she hopes to return to Charleston one day to teach, she said.

"I love teaching so much and working with students. The people who have worked with me in the past have really inspired me and passed along the torch to say you are the future. That's what I want to give back. I want to show other students how cool I think what I study is," she said.

"I love that science is like a puzzle. You definitely have your bad days, but those good days make up for it when you make that breakthrough or get an experiment to work—that's so thrilling."





Friday, March 19, 2010




The Catalyst Online is published weekly by the MUSC Office of Public Relations for the faculty, employees and students of the Medical University of South Carolina. The Catalyst Online editor, Kim Draughn, can be reached at 792-4107 or by email, catalyst@musc.edu. Editorial copy can be submitted to The Catalyst Online and to The Catalyst in print by fax, 792-6723, or by email to catalyst@musc.edu. To place an ad in The Catalyst hardcopy, call Island Publications at 849-1778, ext. 201.