Support director relishes helping others




by Cindy Abole




Public Relations


She could be called the second Mom of medical students on campus. Myra Haney Singleton certainly is performing that role during Match Week at MUSC.

With anxieties and expectations running high, it's not unusual for the College of Medicine's Singleton to spot several familiar faces among the fourth-year medical students stopping by her modest, sixth-floor office. For many soon-to-be graduating students, the anticipation of waiting for the March 18 Match Day results from the National Resident Matching Program can be either a jubilant moment or disappointing time.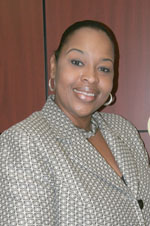 Myra Haney Singleton



Either way, Singleton patiently listens, whether she's rejoicing with a student after hearing the news that he or she has matched to a long-desired residency program or privately consoling another who is struggling with a parent's illness. In the 10 years that she has worked with students in the dean's office, Singleton's calm voice, welcoming presence and unwavering positiveness has made a difference in the lives of MUSC's medical students.

"It's my pleasure to serve our students," said Singleton, with a confident smile. "Our medical students are remarkable and talented individuals. I consider myself fortunate to be able to build a relationship with each of these students and watch them emerge as dynamic doctors after completing this phase of their medical education."

Singleton is among eight women at MUSC honored in March as part of National Women's History Project. The institution solicits nominations for women to be featured during the month of March who exemplify leadership qualities and who make significant contributions in their fields.

It's Singleton's job as director of academics and student support within the College of Medicine's Dean's Office to counsel and respond to the needs of about 540 medical students by lending a sympathetic ear and nurturing hand. She, along with Chris Pelic, M.D., associate dean for students and Jeff Wong, M.D., senior associate dean for medical education, are part of a team that handles the academic monitoring and overall well-being of their students.

The trio supports a mandate set out in 2001 by College of Medicine Dean Jerry Reves, M.D., to focus on the retention of students by providing both personal and campus support throughout the medical school experience. The college's retention rate is at its highest —97 percent. The hope is that students achieve and develop to become the best physicians they can despite whatever happens in life, according to Singleton.

"We teach students how to manage life in the midst of medical school," said Singleton, who got her start working as the assistant to Victor Del Bene, M.D., former associate dean for students in 2000. "We remind them that life comes at them even in medical school and they need to make adjustments. I think the dialogue that our team has had with these students is helping to shape each of them in a way that our formal medical school curriculum doesn't teach. It lets them develop to become more caring, empathetic medical professionals."

Singleton's excellent listening skills and comfortable, non-judgmental interaction with students helped her land her job providing student support. Upon earning her master's in counselor education from The Citadel in 2004, she was offered a position with the Dean's Office Support staff to assist students and work with the college's new diversity plan. She served on the College of Medicine's Diversity Committee and helped lead and manage a variety of programs to recruit and retain minority students in medicine.

She and Pelic work in tandem to counsel and talk to students about dealing with the pressures of medical school, the rigorous curriculum and personal issues. She's resourceful in recommending campuswide services she knows will help students and skillful in asking them questions that get to the heart of the matter so that together they can find solutions and resolve situations.

"Myra provides the practical academic guidance and support to help students resolve issues while meeting the school's requirements and academic standards," said Pelic.

"She's dedicated to making sure that our students' medical school experience is not only successful but also a happy and healthy one. We're lucky to have her at MUSC."

As students complete Match Day and log another milestone in their medical school journey, Singleton will be as emotional as an excited mother regarding her students.

"Once you connect with these students, you share and understand so much about them and their journey in this experience. It's more than our students confirming their residency match or receiving a degree. It's about how they demonstrated themselves through certain challenges and met their goals. It's one of the most emotional times for myself and my colleagues," Singleton said.





Friday, March 19, 2010




The Catalyst Online is published weekly by the MUSC Office of Public Relations for the faculty, employees and students of the Medical University of South Carolina. The Catalyst Online editor, Kim Draughn, can be reached at 792-4107 or by email, catalyst@musc.edu. Editorial copy can be submitted to The Catalyst Online and to The Catalyst in print by fax, 792-6723, or by email to catalyst@musc.edu. To place an ad in The Catalyst hardcopy, call Island Publications at 849-1778, ext. 201.