by Dawn Brazell




Public Relations


It's called the bear quilt, but a better name may be the magic quilt.

For one reason, it plays tricks on the eyes. From close up the batik squares appear in a kaleidoscope of colors as if viewing an Impressionist painting. Viewed from a distance, though, the image of a bear appears. But that's just a hint of its magic.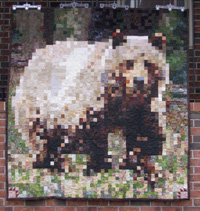 The real magic of the quilt is in the lives it has touched and how it has brought healing.

Brainchild of MUSC transplant patient Steve Carr, the quilt was born out of a desire to raise money for MUSC's Transplant Center and to bring honor to Betsy Ann Thomson, a 27-year-old special needs teacher who was known for her gift of working with children on the autism spectrum.

Carr, who received the gift of two of her organs, wanted to raise money to support the center and to provide a donation to the Autism Society of America, one of Thomson's favorite causes. He talked to his friend Rise Briggs, an artist who makes quilts, and she volunteered to make one to use as a fundraiser.

Sara Stello, administrative coordinator at the center, said it was a wonderful way to show thanks and to honor Thomson. The center received $1,200 from ticket sales. "People who opt to be organ donors are way beyond heroes. It shows Steve's gratitude. Thank you is never enough. How do you say thank you when your life goes on. It's a way to help them grieve and for Steve to show Betsy's family how much it meant to him. I don't think he could think of a better kidney he could have in his body."



Betsy Ann Thomson



The transplant center received four organs from Thomson, who died unexpectedly from a blood clot in her leg that broke loose and lodged in her lung. Carr, 57, received a kidney and her pancreas, with two other patients getting a kidney and a liver. Carr, who has diabetes, contracted a virus that was causing organ failure, he said. He had his transplant in July 2008, and is doing well.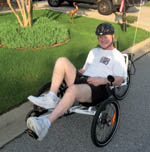 Steve Carr, of Greenville, wanted to raise money for MUSC's Transplant Center. Visit

http://www.muschealth.com/transplant or http://www.facebook.com/MUSCtransplant

In describing Thomson, Carr said she was an outstanding person and considered the life of the party. She was a Special Olympics state games coach, and had a heart for helping these children. Another fundraiser held through the Autism Speaks organization raised $2,060 for the Celebrating Betsy Team. Carr, who has met with her family, said she is greatly missed by them, her friends and her fiancée.

Stello said it's been gratifying to see how the quilt fundraiser helped honor her memory, and how it also helped others to move on in their lives. One odd twist to the story is that the winner of the quilt was Sharon Spray, Ph.D., a friend of Carr and Briggs. The three roomed together as friends in Hawaii about 35 years ago. Spray's husband died three years ago from cancer related to his anti-suppressant drug therapy from a transplant he had received 15 years earlier, said Carr.

"For her it was closure. Taking the action of giving the money was a final step in her grieving process."



INFO BOX
Every 11 minutes another person is added to the transplant waiting list.

You have the power to save eight lives through organ donation and to improve the lives of more than 50 other people through tissue donation.

There are about 100,000 people on the national organ transplant waiting list. More than 750 of those waiting are on the South Carolina list.
Every 90 minutes someone dies in the United States awaiting a transplant.
For more information about being a donor, visit http://www.donatelifesc.org or http://www.every11minutes.org
Friday, March 19, 2010