Educator assists others in realizing potential


by Marina Fleming
Public Relations
Jennie Ariail, Ph.D., believes life is not about enriching herself, but rather the lives of everyone around her. Ariail, professor and executive director for the Center for Academic Excellence said the most important goal in her life is to have the words 'she loved' written on her tombstone.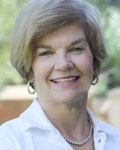 Dr. Jennie Ariail



Since her start at MUSC in 1997, Ariail has been influential in the success of the Writing Center as well as the Center for Academic Excellence. She said that coming to MUSC to teach writing and help set up the Center for Academic Excellence was one of the greatest opportunities she could ever have had. "I felt as if I had won a prize, and it is still a prize," Ariail said. "In this economic climate, I am afraid to admit that I love my work so much I would do it for free, if I could."

Ariail is one of eight women at MUSC being honored throughout March as part of the National Women's History Project. The university solicits nominations for women to be featured during the month of March who exemplify leadership qualities and who make significant contributions in their fields.

Ariail's day-to-day responsibilities include developing strategies to assess students' learning styles and helping them adapt their individual styles to become more effective and efficient learners and successful test-takers. She teaches writing skills to students one-on-one and in workshops, and works with faculty to improve test writing skills and enhance students' critical thinking skills.

Ariail attributes most of her achievements to influential people in her life. While attending University of South Carolina, where she earned a doctorate in composition and rhetoric, she was surrounded by outstanding women professors who continue to encourage her. Since she's been at MUSC, Ariail says she's been influenced by the powerful, intelligent women with whom she works and interacts. "I strive to emulate these women." Ariail said. "I gain strength and courage from listening to their wisdom, hearing their insights, and observing the way they handle themselves."

While she has been influenced by so many, she too positively impacts the lives of MUSC students and receives satisfaction from those experiences. "I feel most empowered when I see 'ah ha!' moments on students' faces and know that they 'get it' and are regaining confidence in themselves as students, writers or test-takers," Ariail said. "Or when I get a phone call or email that says, 'I did it!' from someone who has been defeated in some area of his or her academic life."

Ariail says that the most rewarding part of her job is seeing discouraged students move from sadness and tears to hopeful smiles and sighs of relief when they discover strategies to help them achieve their goals. It's an area she enjoys expanding her knowledge.

"I don't know as much about the brain as I wish I did," Ariail said. "I know much about the ways that we learn, but when those strategies don't work for every student, I long to know more." Another aspect that challenges her is to build strong relationships with each student that she knows. "I want to know how each student thinks and what he or she needs to be successful," Ariail said. "For everyone - student, faculty, or staff - the challenge is the same: time. We all need more time."

Of all of Ariail's accomplishments, she is most proud of her work as a teacher, she said. "I am most proud of helping students become biomedical scientists and health care providers by believing in them even when they lose belief in themselves and collaborating with them to find ways to ensure their academic success."





Friday, March 26, 2010





The Catalyst Online is published weekly by the MUSC Office of Public Relations for the faculty, employees and students of the Medical University of South Carolina. The Catalyst Online editor, Kim Draughn, can be reached at 792-4107 or by email, catalyst@musc.edu. Editorial copy can be submitted to The Catalyst Online and to The Catalyst in print by fax, 792-6723, or by email to catalyst@musc.edu. To place an ad in The Catalyst hardcopy, call Island Publications at 849-1778, ext. 201.