MUSC and Creating Collaborative Care's fourth annual Clarion (Clinician Administrator Relationship Improvement Organization) Interprofessional Case Competition brought students together to delve into a case study of a sentinel event to find root cause analysis and provide recommendations.

The objective of Clarion is to broaden the educational experience of health care students through interprofessional interaction as well as raise awareness of each profession to increase patient health outcomes.

Students from Phi Lambda Sigma Pharmacy Leadership Society and the MUSC Student Government Association planned the competition. The Student Government Association also funded the reception that took place after the event.

Four teams were under the spotlight at the finalists' competition March 3. The finalist judges were Oscar Lovelace, M.D., Maralynne Mitcham, Ph.D., and Valerie West, Ed.D.

The team that placed first will travel to the University of Minnesota to compete at the National Clarion Competition April 10. The first place prize is $5,000.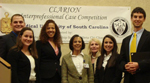 The first place team winners are Katie Herbert, second from left, Brianna Morabito, third from left, Cynthia Hudson, center, Amanda Cooper, second from right, and Brett Hoffecker, right. Representing Phi Lambda Sigma Pharmacy Leadership Society is President Kevin Curler, left; and MUSC's Associate Provost for Education and Student Life Darlene Shaw.



First place ($3,000)—Amanda Cooper (Health Professions); Katie Herbert (Pharmacy); Brett Hoffecker (Medicine); Brianna Morabito (Pharmacy); Cynthia Hudson, DNSc, (faculty advisor)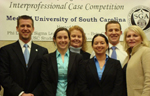 Second place team



Second place ($2,000)—Carrie Alderman (Pharmacy); Carol Brown (Pharmacy); Charles Darragh (Medicine); John Wagner (Health Professions); Laurine Charles, Ph.D., (faculty advisor)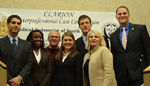 Third place team



Third Place ($1,000)—Tyler Ellis (Medicine, Graduate Studies); Diane Okpala (Pharmacy); Brett Shigley (Dental Medicine); Christine Walker (Health Professions); Yiannis Koutalos, Ph.D. (faculty advisor)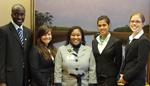 Fourth place team



Fourth place—Amanda Backus (Health Professions); Vidya Fleetwood (Medicine); Caroline Griggs (Pharmacy); Daniel Odongo (Pharmacy); DaNine Fleming, Ed.D. (faculty advisor).




Friday, March 26, 2010