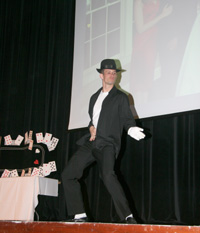 A total of 135 students with the College of Medicine Class of 2010 took front stage March 18 during Match Day held at the Charleston Music Hall. More than 500 family, friends, faculty and staff attended. This year's theme borrowed from British writer Ian Fleming's Casino Royale. Left photo: T.G. Nessler danced his way onstage with his rendition of Michael Jackson's hit "This is it." Nessler matched to an emergency medicine residency at the Carl R. Darnall Army Medical Center in Fort Hood, Texas.

Match Day occurs the third Thursday in March each year. Fourth year medical students begin interviewing with residency programs during the fall of their fourth year. During the month of February students submit their rank order list with their preference of residency programs and simultaneously residency programs submit a rank order list with their preference of students. A computerized algorithm is then used to match students to programs. Four years of hard work culminates in the "Match Day" ceremony when students learn the identity of the program to which they have matched. It is an exciting, anxiety-filled moment, as each student is called to announce where he or she has matched and learn for the first time where they will be spending the next one to five years.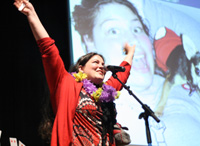 Medical student Allison Garrett is jubilant after learning that she successfully matched to a psychiatry residency at the University of Hawaii.

The National Resident Matching Program announced that the 2010 Main Residency Match was one of the most successful ever, breaking records for the numbers of residency positions offered and filled. There were a total of 25,520 positions available and 24,378 of them were filled. 82 percent of matched U.S. seniors matched to one of their first three choice programs.
MUSC students did exceptionally well in this year's Match. 135 MUSC students successfully matched into a variety of specialties from Emergency Medicine to Child Neurology all around the country at esteemed institutions like Harvard, Vanderbilt, and the NIH. Twenty-one percent of our students matched into "competitive match" specialties: Anesthesiology, Dermatology, Ophthalmology, Orthopaedic Surgery, Otolaryngology, Plastic Surgery, Radiation Oncology, Radiology, and Urology. Overall, the most represented specialty was Internal Medicine (IM) with 24 percent going into IM or a combined IM residency. Twenty-three percent of students will be completing their residency training at the Medical University of South Carolina while 77 percent will be going to other institutions. Students will be training coast to coast (from Cedars-Sinai Medical Center and the University of Washington to NYU School of Medicine and Johns Hopkins).
Friday, March 26, 2010