Awards honor leaders, stewards of service

by Cindy Abole




Public Relations


The year's outstanding student leaders and community student volunteers were recognized in the annual MUSC Student Service and Leadership Awards Banquet April 14 at the Charleston Marriott. The event honored new inductees to the MUSC Student Leadership Society and recognized student volunteers for their efforts throughout the Tri-county.

The event's guest speaker was Valerie West, Ed.D. MUSC Professor Emeritus, who spoke to the audience about honoring the value of service and recognizing the qualities of leadership, which she describes as passion, courage, partnerships, shared vision, competence and persistence.

"Certainly these service and leadership characteristics have been well modeled by Dr. West, herself," said Liz Sheridan, MUSC Gives Back program director. "Besides the actions of service and leadership, her remarks reminded us of how important it is to apply these values to many of life's commitments."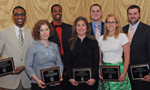 2010 inductees to the Student Leadership Society are Emmanuel Chandler, back row from left, Theodius Oates II, Kevin Curler and Tyler Pierce. Front row from left is Kathryn Stroud, Linnea Freeman and Amy Painter. Not pictured is Melissa Thompson.




Darlene Shaw, Ph.D., associate provost for Education & Student Life, announced the eight 2010 inductees to the Student Leadership Society. The society was established in 2007 to recognize the best student leaders—individuals who have made important contributions through their character, service and commitment to enhancing the campus' environment. A total of 18 students were nominated by their peers, faculty and staff. A committee, composed of faculty, staff and administrators, reviewed the nominations and confirmed the list of nominees.

Shaw recognized Emmanuel Chandler, medicine; Kevin Curler, pharmacy; Linnea Freeman, graduate studies; Theodius Oates II, health professions-physical therapy; Amy Painter, nursing; Tyler Pierce, medicine; Kathryn Stroud, dental medicine; and Melissa Thompson, pharmacy.

Additionally, the banquet recognized this year's MUSC Gives Back Community Volunteer Awards for Student Organizations and individual volunteer winners.



College of Dental Medicine



Organization Award: Dental Class of 2010—The class of 55 students contributed 2,064 hours to a variety of efforts, including dental mission trips to Burundi, Ecuador and Haiti. Locally, the class assisted in tours of the new James B. Edwards College of Dental Medicine Clinical Education building. They contributed to oral health education in the community through such programs as Give Kids a Smile Day.
College of Graduate Studies
Organization: Graduate Student Association—Through the Graduates Reaching Out With Science or Grows Program, students were able to visit schools and interact with 12 different classes at four middle schools.
College of Health Professions
Organization: Physician Assistant (PA) Class of 2011—The class assisted students at St. John's High School and established a scholarship for students to assist with supplies, as well as one for underprivileged seniors involved in the Future Leaders of Health program. The class hosted a Mr. CHP event to help raise more than $2,000 to fund scholarships.
College of Medicine
Organization: American Medical Women's Association—This chapter helped raise donations for a variety of causes and awareness connected to women's health risks and prevention. The group designed T-shirts and collected money, raising $2,300 for the Susan G. Komen Foundation. Members also assisted the Hearts 4 Haiti Soiree, which raised $2,500 for Water Missions International.
College of Nursing
College of Pharmacy
Organization: Kappa Psi Pharmaceutical Fraternity—Members of this group have participated in poison prevention programs and medication safety awareness at community health fairs. They also helped with the Carolina Youth Development Center Teddy Bear Tree, as well as mentoring students at Meeting Street Academy.
Universitywide-Organization


The Cares Clinic: Established in 2005, the Cares Clinic is operated by a team of students who logged more than 4,500 hours in the past year. The clinic is focused on providing health care for Charleston County's uninsured population.



Mentoring advocate wins humanitarian award


Fourth-year medical student Vandy Gaffney was the 2010 recipient of the Charles H. Banov, M.D. Humanitarian Award, which was presented at the April 14 Student Service and Leadership Awards Banquet. Gaffney received the award and $1,000 check from Banov and wife, Nancy.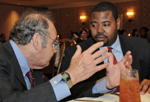 Dr. Charles Banov, left, speaks with Vandy Gaffney.



Gaffney was praised for establishing the Gentleman and a Scholar mentoring program within the College of Medicine, supporting black, male high-school and college-level students interested in a career in medicine. Gaffney and fellow black medical school colleagues served as mentors to the students and met regularly with participants. The program is recognized by the South Carolina State Legislative Assembly and the Association of American Medical Colleges. Gaffney also volunteered and shared his leadership skills in other community, health-services programs.

The Banov award recognizes an MUSC student for making a significant contribution, either locally or abroad, by volunteering time to recognize and achieve an unmet community need.

Gaffney will graduate in May and will begin a surgery preliminary residency at MUSC July 1.

Friday, April 23, 2010