Clinic offers new mammography screening

The latest in mammogram technology now is available at a new location in Mount Pleasant at Carolina Family Care near the Isle of Palms Connector.

MUSC's Department of Radiology has expanded to this location for accessibility and to provide care to more patients. Services include digital mammography screening and bone density testing.

Thomas Pope, M.D., of the Department of Radiology and Radiological Science, said these opportunities could be life saving. "We will have a chance to screen an increasingly larger number of women for breast cancer which is crucial to better survival," Pope said. "It also will mean that our referring physicians will have two more easily accessible options for requesting mammography studies."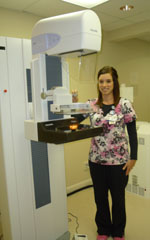 Lindsey Hosey, mammography technologist, works with the new digital mammography machine.



Digital mammography represents the very latest in mammogram technology. Compared to standard mammograms that are recorded on film, computer-based digital mammograms have been proven to be more accurate for more than half the women who receive breast cancer screenings, especially for women with dense breasts, women under 50 years old, and women who are pre-or peri-menopausal. Additionally, final results of digital mammograms are returned to ordering physicians within 24 hours.

Digital mammography and breast imaging arrived at MUSC largely through Hollings Cancer Center's (HCC) Comprehensive Breast Care program. Locations already exist at Hollings Cancer Center downtown, MUSC Specialty North at 8992 University Boulevard, and through the HCC mobile van. The Comprehensive Breast Care program is the only Lowcountry breast center accredited by the National Accreditation Program for Breast Centers.

According to Pope, their coordinated team of highly-trained specialists delivers the latest treatments and has built the southeast's premier program for breast cancer. "I believe that our overall group is certainly one of the best in the nation with all of the latest and most effective diagnostic and therapeutic choices that any patients with breast problems would need to be appropriately cared for," Pope said.

The other new offering is a bone density test. The test, also known as bone mass measurement or bone mineral density test, measures the strength and density of your bones as you approach menopause. When the test is repeated sometime later, it can also help determine how quickly you are losing bone mass and density. These tests are painless, noninvasive, and safe. They compare bone density with standards for what is expected in someone of a specific age, gender, and size and to the optimal peak bone density of a healthy young adult of the same gender.

Testing can assist in detecting low bone density before a fracture occurs, confirm a diagnosis of osteoporosis if you have already had a fracture, and predict the chances of future fractures. Bone density testing also can determine the rate of bone loss and/or monitor the effects of treatment with tests conducted at intervals.

The Mount Pleasant office is located at 1208 Two Island Court and is open from 8 a.m. to 5 p.m. weekdays. For more information or to schedule an appointment, call 792-8439.


Friday, April 23, 2010


The Catalyst Online is published weekly by the MUSC Office of Public Relations for the faculty, employees and students of the Medical University of South Carolina. The Catalyst Online editor, Kim Draughn, can be reached at 792-4107 or by email, catalyst@musc.edu. Editorial copy can be submitted to The Catalyst Online and to The Catalyst in print by fax, 792-6723, or by email to catalyst@musc.edu. To place an ad in The Catalyst hardcopy, call Island Publications at 849-1778, ext. 201.