by Dawn Brazell
Public Relations
Larry Lighthall knows how to get a twinkle in a child's eye.

When they come in all worried about checking into the hospital, he just asks for their stuffed animal. He proceeds to give the animal an armband. Bingo. Twinkle.

Lighthall said the children just love that. It's one of many small actions he has in his repertoire to help patients relax and ease them into the admissions process. Lighthall, a patient appointment representative in Patient Access Services (PAS), serves on the frontline of the hospital giving patients one of their first impressions of the hospital.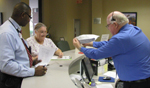 Larry Lighthall, right, helps patient Sue Bolt get an envelope open. Lighthall is known for the small touches he does to help patients relax and to ease the process of admissions.



It's a big job. Last year PAS admitted more than 200,000 patients, with an average length of stay of five days. Beverly Gaillard, patient registration supervisor, said that the staff does an excellent job and will be honored through a series of events the week of April 5 as part of National Healthcare Access Personnel Week.

"We acknowledge our special goodwill ambassadors in Patient Access Services for initiating the caring spirit that exists among all our hospital staff," said Gaillard.

Patient Access Registration managers Marlene Haselden-Mizell and Lisa Cooper said they work hard to provide good customer service. Cooper said it's a time of anxiety for families. "Patients and families coming into our hospital are often in a stressful situation," said Cooper. "Our job is to get them registered for their procedure in a caring and efficient manner."

In an average day, PAS handles a variety of requests for patient placement from many sources, including physicians, nurses and clinics. Physicians call the Admit Transfer Center to schedule patients for admission and nurses inform the center of patient transfers and discharges. The PAS financial counselors must also be familiar with the procedures and guidelines of various insurance companies. PAS employee Pam Harrison said that showing care and concern is the first priority.

"The more important thing while registering our customers is having patience, and giving them our full attention while providing them excellent customer service," said Harrison.

Lighthall, who has worked at MUSC for five years, couldn't agree more.

He worked his way through college 35 years ago doing the job he now has again. While the technology and insurance aspects have greatly changed, the skills of making patients feel welcomed haven't, he said.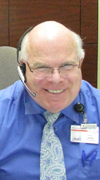 Larry Lighthall



"I get a warm feeling deep inside when I know I have represented our hospital in a positive manner."

Lighthall, who expertly handles the multitasking roles of talking to patients and answering calls on his headset, said his goal is to get patients to relax and to ask the appropriate questions to get the information he needs in a short amount of time. He loves making connections with patients, sharing a little piece of himself that he senses will strike a chord with them—whether it's sharing a good book title or a recipe.

"The healing process doesn't start later after surgery. The healing process starts right here at this desk."




Friday, April 2, 2010