Name:
Noelle Model 575 and baby, Hal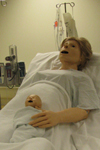 Department:
MUSC Healthcare Simulation Center, College of Nursing


How long at MUSC:
2 ½ years


A unique talent you have:
Surprising students during demonstrations


Proudest accomplishment:
Birthing 75 babies and training 100 health professionals every week


Most embarrassing moment:
The day I gave birth in an old pickup truck (I don't make the programming)!



Favorite expression:

"Please give me an epidural…early!"


Favorite book:
Massage for Dummies


Best advice:
Wash your hands and warm them first!


Claim to fame:
First and only labor and delivery medical training mannequin


Greatest fear:
Becoming obsolete


Greatest moment in your life:
The day my assembly was complete and I became tetherless.
Friday, April 2, 2010