Jeopardy challenges faculty's knowledge

by Dawn Brazell




Public Relations


Wiping palms and sitting up straighter, the two contestants prepared for the final Jeopardy round.

In the right corner sat reigning champion Ben Clyburn, M.D., with 1,100 points. In the left - challenger Stephen Schabel, M.D., who had racked up 1,400. Alas, the two other contestants David Cole, M.D., and Jennifer L. Young, M.D., lacked the points to play.

Oddly, they weren't too sad about this.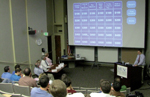 Doctors Stephen Schabel, Jennifer L. Young, David Cole and Ben Clyburn took the hot seats recently to play Faculty Jeopardy.



Moderator and fourth-year medical student John Korman, master of tongue-twisting questions of medical minutia, flashed up the last question. A hush fell on the crowd in the 2 West Amphitheater as they watched the final minutes of Faculty Jeopardy, an annual event sponsored by Alpha Omega Alpha, the campus' medical honor society.

The question:

Recent PCR analysis of mummified tissue from Egyptian pharaoh, Tutankhamun, demonstrated amplification of STEVOR, AMA1, and MSP1 genes, findings consistent with infection by this arthropod-borne pathogen. Name the genus and species.

The answer: What is Plasmodium falciparum? The answer was taken from the Journal of the American Medical Association's Feb. 17 issue from the article "Ancestry and Pathology in King Tutankhamun's Family."

Clyburn came close with his answer, but fumbled it at the end, not quite making the cut. Schabel missed it, too, but in an ingenious move of gamesmanship hedged his bet low, winning with 800 points.

All done in good fun, the game had contestants battling hard to get to this point, fielding questions devised by medical students who obviously were not screened for passive-aggressive tendencies. The students did a good job, stumping the panel on quite a number of questions in categories that ranged from "to pee or not to pee" to "eponymic epidemic." Students in the rows whispered their favorites as the game progressed, with Cole garnering popular support with his daring gambles on the Daily Doubles.

Korman congratulated all the contestants before giving bragging rights to Schabel and a grand prize of a $75 gift certificate to a local restaurant.

"It was a hard-fought match," said Korman. "And I'm thankful for everyone who put their honor on the line today."

Korman said the annual event is a favorite because it gives the students a chance to put the attending physicians in the hot seat for a change. It also encourages the students to refresh their memories and realize the importance of all they are learning.

Clyburn said he didn't mind giving up his reigning title. "It's nerve-wracking," he said, still kicking himself for an answer he knew, but blew. "Now I won't have to defend my title next year."

Meanwhile, Schabel, in true reigning champion form, is relishing his claim to fame. He said it's always a great honor to be asked to participate by the students.

"I love to play," he said. "I hope to be able to defend next year."



Sample Quiz



Think you'd do well on the Faculty Jeopardy? Try your luck with these 10 sample questions from the 2010 game.

1. A certain Civil War surgeon would love it if you poured him a "Waco," now known by this name.

2. Extreme cola ingestion (4-10 L/day) has recently been reported to cause this electrolyte imbalance.

3. This is the most common heritable form of mental retardation.

4. Named for a Grimm Brothers' tale, this rare syndrome presents with a trichobezoar resulting from trichophagia.

5. According to the CDC, one third of the world's population are infected with this microbe that has a characteristic "red snapper" appearance after acid-fast staining.

6. This is a form of alternative medicine, considered to have no scientific merit, that includes drinking one's own liquid excrement for medicinal benefit.

7. Authors of a meta-analysis in the March 17 JAMA found an inverse relationship between colorectal cancer and intake of this vitamin, whose deficiency can cause depression, confusion, anemia, glossitis, cheilosis, dermatitis, peripheral neuropathy, and even seizures.

8. Although it now houses the MUSC administrative offices, this building on the MUSC campus was originally constructed as a Confederate military foundry in 1861.

9. Release of this toxin by Streptococcus pyogenes is responsible for the characteristic skin findings of scarlet fever.

10. The hazardous intravenous use of heroin and cocaine together in the same syringe is known by this slang term.

Answers
1. What is Dr. Pepper®?
2. What is hypokalemia?
3. What is fragile X syndrome?
4. What is Rapunzel syndrome?
5. What is Mycobacterium tuberculosis?
6. What is urine therapy (urinotherapy or urotherapy)?
7. What is vitamin B6 or pyridoxine?
8. What is Colcock Hall?
9. What is erythrogenic toxin?
10. What is a Speedball(ing) (also powerball or snowball)?




Friday, April 9, 2010


The Catalyst Online is published weekly by the MUSC Office of Public Relations for the faculty, employees and students of the Medical University of South Carolina. The Catalyst Online editor, Kim Draughn, can be reached at 792-4107 or by email, catalyst@musc.edu. Editorial copy can be submitted to The Catalyst Online and to The Catalyst in print by fax, 792-6723, or by email to catalyst@musc.edu. To place an ad in The Catalyst hardcopy, call Island Publications at 849-1778, ext. 201.