Boy appreciates his million dollar smile

by Maggie Mullen




Public Relations


When you nod to a passing person on the street or greet an old friend after many years, one of the first features that catches your eye might be their pearly whites. Most of us take a simple smile for granted. Not 9-year-old Kobe Pellenz.

Kobe, a fourth grader from Daniel Island, has Ectodermal Dysplasia (ED), a genetic disorder that leaves him with sparse hair, thin nails, little sweating and many missing teeth.

His parents, John and Linda Pellenz, first noticed this at the early age of 4 months. Kobe had a severe 109 degree fever, was rushed to East Cooper Hospital after seizing, and later transferred to MUSC in August 2000. This is where the relationship with Kobe, the Pellenz family and MUSC began.

"We are very fortunate and grateful for the wonderful doctors who have helped us through this long, long process," said his mom, Linda.

A major aspect of Kobe's condition is malformed teeth. Since birth, his teeth failed to develop normally, which affected everything from eating to speech. Prior to seeking treatment, Kobe had only six permanent teeth. As Kobe grew, his teeth came in pointed, missing or widely spaced because of defective enamel. Most children with this condition require dental care at a young age and multiple denture replacements throughout childhood and adolescence.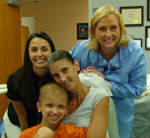 Kobe with mom Linda, Dr. Betsy Davis, back right, and Dr. Mary Leathers.



MUSC's team of dental specialists, lab technicians and dental assistants within the Division of Maxillofacial Prosthetics and dentists at the Department of Pediatric Dentistry in the College of Dental Medicine have already treated more than two dozen patients like Kobe. The collaboration between his family, school staff and dental providers makes Kobe's story a success.

"Kobe's success story is a great example of what can be achieved with interdisciplinary care at MUSC," said Mary Leathers, DMD, assistant professor of pediatric dentistry in the College of Dental Medicine.




Left photo: Kobe Pellenz before his treatment at MUSC. In the right photo, Kobe has a million dollar smile thanks to MUSC staff.



His journey began in 2000 when Kobe was a patient of Carlos Salinas, DMD, professor of pediatric dentistry in craniofacial genetics, College of Dental Medicine. Salinas referred the young patient to Leathers, who became his primary dental provider in pediatric dentistry. She reshaped his sharp teeth and then collaborated with Betsy Davis, DMD, associate professor in the Department of Otolaryngology-Head and Neck surgery and director of the Maxillofacial Prosthetics Clinic, to form his dentures. After a yearlong process of visits and denture fittings, Kobe received his first set of dentures by the start of third grade. He continues to see Melissa Montiel Potemra, a speech language pathologist, who is helping him improve his eating and speaking skills.

"Young patients like Kobe bring me joy in the work that I do," said Davis. "Helping Kobe and others gain the confidence they need and enjoy everyday experiences throughout childhood makes a difference in their lives."

The challenge is not over for Kobe. He will continually need to relearn how to eat, drink and speak again. "Now I have a million dollar smile," said Kobe, who got his second set of dentures just prior to the start of school last August. "I'm not used to eating with my new teeth, but I still get to eat my favorite foods, turkey and cheese!"

To help diagnose children affected by ED learn how to live with their condition and overcome obvious social issues, the family attended the National Foundation for Ectodermal Dysplasias in Virginia and was able to meet and interact with other ED families. This collaboration helped Kobe, the Pellenz family and others learn how to socialize with other children and adults living with this condition.

"It was hilarious because this was the first time we couldn't recognize Kobe in a swimming pool full of children. He looked like every other kid," said his mom.

Unfortunately, as Kobe grows, his dentures will not, which means that his care will continue to be an ongoing process that affects his family both physically and financially. According to Davis, Kobe's teeth will continually need to be reshaped and refitted for dentures until he reaches adulthood.

Kobe's younger brother, Noah, 3, was diagnosed with the same genetic disease at a very early age and will soon be seeking the same level of dental care and collaborative expertise in the next few years.



Friday, April 9


The Catalyst Online is published weekly by the MUSC Office of Public Relations for the faculty, employees and students of the Medical University of South Carolina. The Catalyst Online editor, Kim Draughn, can be reached at 792-4107 or by email, catalyst@musc.edu. Editorial copy can be submitted to The Catalyst Online and to The Catalyst in print by fax, 792-6723, or by email to catalyst@musc.edu. To place an ad in The Catalyst hardcopy, call Island Publications at 849-1778, ext. 201.