All-American athlete has positive attitude

by Marina Fleming
Public Relations

Five years ago, Josie Hahn Reynolds graduated from Vanderbilt University as a four-time, All-American athlete and standout student. Now, she's graduating from MUSC's College of Dental Medicine (CDM) with an equally stunning record.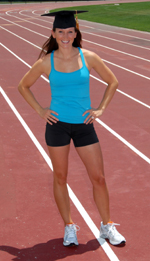 Dr. Josie Hahn Reynolds



A Clinton, Tenn., native, Reynolds arrived at MUSC as a prominent track and field athlete. She was a nominee for the Wendy's High School Heisman Award and a member of the U.S. Heptathlon squad in 2003
that competed in the Netherlands and earned a tryout for the U.S. Olympic Team in 2004. While the intense NCAA competition has since subsided, Reynolds still has kept up her athletic vigor.

When she first arrived, she still focused on running but has since moved into cycling, even competing in various triathlons and biathlons. While she misses the competition and team aspect of track, she said she has enjoyed the transition.

"Longer distance races have been a good social outlet," Reynolds, DMD, said. "I've met a good base of people."

The competitive nature that Reynolds learned on the track helped her stay focused in her first couple of years at MUSC. "Instead of spending hours at practice, I spent time studying." Reynolds said. "I was competing with myself to see how well I could do on each test."

Her dedication was especially apparent to Theodore McGill, DMD, assistant professor of Oral Rehabilitation at CDM. "Josie is a superlative student," said McGill. "In my eyes, Josie ranks in the top of her class."

McGill taught Reynolds in several preclinical courses as well as the restorative clinic and said her positive attitude has always been a boost. "Josie always has a smile on her face, no matter the situation," said McGill. "She is an intelligent, positive, critically-thinking woman, who is destined to be a successful and giving professional."

Reynolds will move to Atlanta after graduation, where she will launch her career at a family dental practice, performing everything from six-month check ups to making dentures. "No matter what I'll be doing, I'm excited to be working with my hands," said Reynolds.

Reynolds, of course, also will pursue her love of fitness. "Exercising keeps me going. It keeps me sane."
Friday, Jan. 15, 2010

The Catalyst Online is published weekly by the MUSC Office of Public Relations for the faculty, employees and students of the Medical University of South Carolina. The Catalyst Online editor, Kim Draughn, can be reached at 792-4107 or by email, catalyst@musc.edu. Editorial copy can be submitted to The Catalyst Online and to The Catalyst in print by fax, 792-6723, or by email to catalyst@musc.edu. To place an ad in The Catalyst hardcopy, call Island Publications at 849-1778, ext. 201.