Juan Carlos Varela only thought he had it challenging completing MUSC's Medical Scientist Training Program. It was a job he did so well that he's the recipient of the 2010 Distinguished Graduate Student Award in the College of Graduate Studies (CGS).

Then came the hardest part of his career—watching his children, ages 5 and 15 months, before starting his internship and residency at Johns Hopkins University as a physician-scientist in hematology and oncology. He walks his son to school in the morning and then has to entertain his daughter.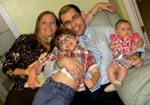 Erin and Juan Varela enjoy down time with their son Juan Carlos II (J.C.) and daughter Sofia.



"It's the best thing that ever happened to me," he said of parenthood, but being on his own with his daughter has had him a bit panicked. "It doesn't compare to eight years of M.D./Ph.D. school. This is 10 times tougher. It's unbelievable. I'm supposed to be starting the hardest part of my career in July, but I think I've already started it because she is something else," he said, his laughter mingling with the sounds of his daughter babbling in the background.

His easy manner and sense of humor are traits that colleagues find appealing in Varela, who's a native of Colombia, South America.

CGS Dean Perry Halushka, M.D., Ph.D., said one reason Varela is so well-liked is his very upbeat nature. It will be a great asset to him as he goes on to deal with patients facing life-threatening illnesses all the time. "He'll be great with patients," said Halushka. "He's an outstanding young man and a delight to be around. We're going to miss him around campus."

Varela has earned top honors during his career. He won the Gold Humanism Honor Society Award from the College of Medicine in 2009, the Ruth L. Kirschstein National Service Award Predoctoral Fellowship for Minority Students from the National Institutes of Health (NIH), the Outstanding Essay Award in the Department of Microbiology and Immunology in 2007 and the Outstanding Supplemental Instructor Award from the Center for Academic Excellence in 2007.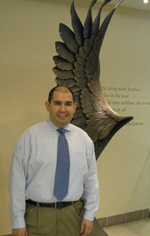 Dr. Juan Carlos Varela spent much of his time training at MUSC's Hollings Cancer Center.



He's made numerous scientific presentations, and published a book chapter and 15 papers, eight of which are related to his dissertation research titled "Complementary Inhibitors in the Immune Response to Bladder Cancer." If Varela were a faculty member he already would be a prime candidate for promotion from assistant to associate professor based on the papers he's already produced, said Halushka.

"We're extra proud of his achievements. He's already well on his way. We will follow his career with great enthusiasm."

Varela's mentor, Stephen Tomlinson, Ph.D., agreed. He said it was a pleasure to have Varela in the laboratory.

"His ever-friendly disposition, generous spirit and willingness to lend a hand whenever needed, made him a very popular laboratory member. He was honest, straightforward and respected for his opinion and advice."

Tomlinson said it was impressive how Varela also found time during his busy schedule to volunteer as a Spanish interpreter and with the Community Aid, Relief, Education and Support Clinic for the uninsured. In the meantime, he stayed devoted to his work. The awards and honors he has received is a testament to his presentation skills and the significance of his work, which also was recognized by the NIH in the form of the pre-doctoral fellowship.

"Juan demonstrated that complement inhibitor expression on a tumor cell modulates protective T-cell immunity via a complement-dependent mechanism. This was a groundbreaking discovery and will likely have significant therapeutic implications. The work formed the basis of Juan's dissertation, and the fact that the work was published in two, high-impact journals testifies to the quality of his dissertation."

Varela, who left South America at age 14 to come to Florida with his family, loves a challenge. He spoke no English when he came to the United States, but within a year had learned to communicate and had adjusted to American culture. His uncle was a physician, so he knew from a young age that he wanted to be a doctor, too. Then he became involved with laboratory work at the University of Florida and wanted to be a scientist.

Torn between the two options, he discovered MUSC's Medical Scientist Training Program. It was the perfect fit, he said. The research sharpens his clinical skills, adding different insights into his practice, he said. Some people have questioned why he has chosen oncology, given it can be such a sad specialty.

Varela agrees, but is excited by the promising research happening in the field of cancer. He also feels a calling to help these patients who tend to be the sickest, but also the most compliant and appreciative.

"It's a unique relationship," he said of the doctor-patient bond that forms. "It's a privilege to be able to work with them. It is my hope to help as many people as possible who have cancer. Would I like to find a cure? Sure, but I know it's realistically going to be very difficult to get to that point. I want to help them either make it through their disease or help them get to a place where they are comfortable with what's going to happen next."



Friday, May 21, 2010