by Roby Hill, Director of Communications




South Carolina College of Pharmacy


The South Carolina College of Pharmacy makes history this spring as it graduates its first class—183 students in the integrated MUSC and University of South Carolina (USC) pharmacy school.

The two schools joined in 2004, bringing together the resources of a major, academic medical center and a large, comprehensive university. The idea was to leverage the resources of the two colleges of pharmacy to create a college on par with the best in the country.

"During the past four years, we have implemented one of the best curriculums in the U.S.," said Joseph T. DiPiro, PharmD, executive dean of the South Carolina College of Pharmacy (SCCP). "We are the program of choice for hundreds of applicants; our research productivity is up; our facilities have been improved, and many of our faculty and students have received national awards and recognitions. We have exceptionally strong partners in health care organizations, and we are attracting top faculty. Not all of that is directly attributable to the integration, but it is clearly working to our advantage. The proof is the caliber of the young men and women we are sending into the profession as SCCP graduates who are USC or MUSC alumni."



Military ties


Two of the graduates from the MUSC campus got more than just a PharmD out of their time at the college. Chris Dykes, a native of Columbia who grew up on a military base in Germany, and Lisa Olson Dykes, an Iowan who chose SCCP because it was in a warm place she'd never been, met within a few weeks of beginning school. Now married, the two are going into a career with the U.S. Air Force.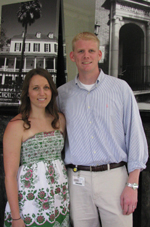 Drs. Lisa Olson Dykes and Chris Dykes, who met and married while in pharmacy school, will be serving in the US Air Force after graduation.



"Well, I met my now husband within the first few weeks of school, which I never expected to happen," Lisa Dykes said. "We were friends for awhile before we started dating and the rest is history. I was torn between the military and a civil service position. However, after many conversations with him, our recruiter, and several friends, I decided to join the Air Force as well."

The two will report for officer training with the U.S. Air Force in Alabama and then be stationed in Biloxi, Miss.

"We will be active duty pharmacists on bases in the U.S. and overseas throughout our careers, either in a hospital or clinic setting, traveling somewhere new every few years. And yes, fortunately, the Air Force sends us together."

Of course, if they ever need to pull some strings, the integration of the two pharmacy schools brings with it a collateral benefit—access to the alumni of both institutions. And when it comes to high ranking pharmacists in the military, MUSC and USC just about have a patent. In recent years, the highest ranking pharmacist in the U.S. Army, U.S. Air Force and U.S. Navy all hailed from one of the two schools. Currently, the highest ranking pharmacist in the Air Force is Col. Everett McAllister, who served as pharmacy consultant to the surgeon general of the Air Force before being promoted to deputy chief of the Pharmaceutical Operations Directorate. McAllister, a USC pharmacy alumnus from the Class of 1984, serves on the SCCP Leadership Advisory Council.

Chris Dykes, whose father is an alumnus of USC's pharmacy school, attended the College of Charleston for undergraduate education and chose to stay in Charleston for his pharmacy education.

"MUSC would have been my choice campus-wise. And with the merger they would take the best of both worlds," he said, adding that the chance to work with faculty, including infectious disease specialists at the USC campus, was one of the highlights. "I would never have gotten that chance if it was just MUSC. And if I went to just USC, I wouldn't have gotten our fantastic hospital at MUSC. Dr. DiPiro is bringing everybody together. He has lot of pull in the pharmacy world. It's a coveted spot to be a part of the college now."



Best of both worlds


William Shealy is from Columbia and stayed in his home town to earn his bachelor's in marine science from USC, where he completed his pre-pharmacy requirements. He decided to enroll in SCCP for the opportunities it afforded.

"If there was one aspect of SCCP that impressed me the most, it was the overwhelming plethora of opportunities. Opportunities for leadership, personal growth, business, service, education and mentorship abound at SCCP no matter which campus you are at ... take it from someone who spent four years at both campuses."

An opportunity Kendra Manigault took advantage of while on the USC campus of SCCP was USC's Honors College. The Moncks Corner native graduated in May from the South Carolina College of Pharmacy and the USC Honor College.

"I came to USC because I came on a tour here, and I fell in love with the campus," Manigault said. "I got there in 2004, and I've loved it ever since. When I knew I wanted to go to pharmacy school, I also knew I wanted to stay. I've had six years, and I've gotten everything I could have out of a university."

She said it's been an advantage—and sometimes a challenge—to have the MUSC and USC pharmacy schools integrated.

"I knew my experience with SCCP might be a challenge due to the merger, but I was ready for the challenge and comforted by the impressive history of both pharmacy schools," she said. "We're the first integrated class. Some things at first may not have worked perfectly, but they've listened to us. They've listened to our concerns and suggestions."

The administration was eager to get student feedback from the first class because the curriculum was new and, in many ways, so was the college.

"One advantage the Class of 2010 got was giving a lot of input into our curriculum," said Philip Hall, PharmD, interim MUSC campus dean. "Student feedback is a big part of our assessment plan so we review student input every step of the way. Since this class was test driving a new curriculum, we were even more attuned to their input."

The Class of 2010 left its mark on the curriculum and history.

"The presidents and boards of trustees at USC and MUSC had a vision in 2004—leverage the resources of two colleges of pharmacy to create a college on par with the best in the country," DiPiro said. "In many respects, particularly the quality of our students and faculty, we are there. There is still a lot of work to do. But I am proud of and grateful to the many people who have enabled us to reach this milestone, especially the students of the Class of 2010."



SCCP Milestones


As the first class of SCCP graduates in 2010, faculty, staff, students, alumni, community and health-system partners and many other friends of the college can reflect back on a number of accomplishments.

Created an exceptional curriculum that is among the best in the nation
Satisfied all standards for accreditation and expect to receive full-accreditation status after the June 2010 Accreditation Council for Pharmacy Education board meeting
Formed the SCCP Leadership Advisory Council, tapping the expertise of leaders of national stature in the pharmacy profession and pharmacy education
Launched a $30 million fundraising campaign to build a new pharmacy facility on the MUSC campus
Recruited nationally renowned scientists as Center of Economic Excellence endowed chairs
These achievements are all directed toward providing the best pharmacy education for students, who are now actively benefitting from the integrated resources that the college has.

Increased NIH funding to top 25 percent; in 2004, the combined funding for both colleges was less than $2 million; it was $5 million this past year
Expanded quantity and quality of experiential sites – established partnerships with major medical centers including Greenville Hospital System University Medical Center, Spartanburg Regional Hospital, Roper St. Francis and the Veterans Administration hospitals in Columbia and Charleston
Expanded opportunities in curriculum – tracks in community, pre-residency and nuclear pharmacy are now available to all students on both campuses; students now have the choice of more than 30 electives
Improved abilities of students who have been taught a common curriculum by the expert faculty at both campuses, as reflected in comments from preceptors
Enhanced research and service centers through leveraging inter-campus resources
Expanded upstate program so the college now has 16 co-funded faculty positions in the upstate and a full-time upstate regional director
Increased interest by 10 percent among highest quality student applicants and the average GPA of accepted applicants is the highest ever
Friday, May 21, 2010