Nurse feels call to help Hispanic patients

by Megan Fink




Public Relations


A trip to the emergency room can be a nerve-wracking experience for anyone. Now imagine you don't speak the native language. MUSC interpreters like Mille Pochet, R.N., not only ensure health safety and quality medical care by translating vital health information, but ease the anxiety of patients with limited English proficiency.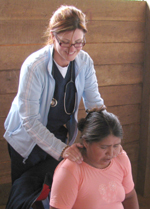 Mille Pochet performs massage therapy on a Peruvian patient. Pochet and a nine other medical volunteers treated hundreds of patients as part of a mission trip in 2009.



Helping the local Hispanic population admitted to MUSC, especially in Labor & Delivery, sparked Pochet's interest in nursing. "You're a hero everywhere you go as an interpreter," said Pochet. "You are the work line to the doctors and nurses. I began to feel I could do even more to help by becoming a nurse."

Pochet's Spanish savvy also earned her a spot on a medical mission team that traveled to remote areas in Peru in 2009. She was only one of two students asked to join the trip that served more than 800 patients in six days. In addition to triaging, educating and assisting in the treatment of Peruvians, she served as the group's interpreter. "Anything a student can do to serve a community outside their comfort zone is beyond enriching and gives you perspective," said Pochet.

Closer to home, Pochet serves as a Hispanic Health Initiative member working with a rural mission center on Johns Island to provide medical resources and education to the families of migrant workers. Volunteers have collected personal first aid kits and children's books for the migrant families, helped them draft safety and nutritional plans, and hosted informational sessions with local experts. Popular topics include mental health, alcoholism, the location of medical resources, and preventative medicines and exams.

Pochet's work with the Lowcountry Hispanic community earned her the Annual Circulo Hispanoamericano de Charleston Grant Award in 2009.

In addition to her interpreting services, Pochet is a teaching assistant for Carole Bennett's, Ph.D., R.N., women's health study on the effects of stress on mental well-being. Her focus in this subgroup is on the reproductive stresses and its effect on a woman's mental health.

"Working with Millie Pochet and teaching her is like getting an unexpected surprise," said Bennett. "She has a perspective on life that is a gift. At the College of Nursing, we are very proud of having her as one of our students and know that the lives she touches will be enriched."

When Pochet is not in the hospital, clinic or classroom, she enjoys exercising, photography, massage therapy, and movies. What Pochet finds most satisfying, however, is helping people and relieving their pain.

Pochet is applying for a position in Women's Health and Perinatal Services at MUSC, and she hopes to continue her work as an interpreter. She also plans on pursuing a doctorate of nursing practice and is an advocate for a midwifery program at MUSC.



Friday, May 21, 2010




The Catalyst Online is published weekly by the MUSC Office of Public Relations for the faculty, employees and students of the Medical University of South Carolina. The Catalyst Online editor, Kim Draughn, can be reached at 792-4107 or by email, catalyst@musc.edu. Editorial copy can be submitted to The Catalyst Online and to The Catalyst in print by fax, 792-6723, or by email to catalyst@musc.edu. To place an ad in The Catalyst hardcopy, call Island Publications at 849-1778, ext. 201.