Pharmacy grad honors mother's memory

by Dawn Brazell




Public Relations


When the Magnitude 7 earthquake hit Haiti on Jan. 12, Jean Hilaire stopped what he was doing to watch it on CNN. Just months away from graduating from the South Carolina College of Pharmacy, Hilaire found he couldn't focus on his rotation.

He had to know if his family was alive.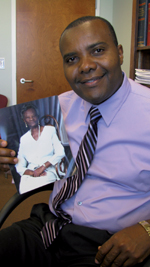 Dr. Jean Hilaire holds a picture of his mother, Sylvie.



Hilaire got a two-week leave from his January acute care rotation to better be able to search for any news from his homeland. After three excruciating days of waiting, he learned that his mother had been killed.

"It was a big blow to me. I cried like a little baby," he said, recalling how hard the process was since he was isolated from the rest of his surviving family. He fortunately had just made a trip to Haiti during the holidays to visit family, a smile lighting up his face as he recounts how much fun his mother and sister had making so many of his favorite meals.

One of the worst parts of being in Charleston during the aftermath of the earthquake was waiting for word, he said. Though he heard about his mother in the first few days, it would not be until the next week when he found out that his sister also had been killed.

"It was like a victory to find the bodies. When they found my sister, it was such a relief."

Hilaire, the youngest of six siblings, said his mother and sister were loving, Christian people who lived by example. Desperate to get home to make sure his mother and sister had proper burials, Hilaire managed to get onto a MUSC medical missions flight to Haiti with Shane Woolfe, M.D., and his team. He worked as a guide and an interpreter, helping to get the team set as he adjusted to the change in scenery around him.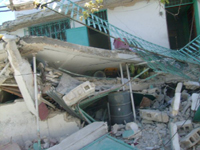 The four-story building that crushed the first floor where his mother, sister and niece used to live in Impasse Laraque 10, Lalue, Port-au-prince, Haiti.



"It was like a war zone. It was such complete devastation."

Hilaire, who used to roam this area playing soccer and throwing fish nets into the ocean, said it was hard to take in all the damage. Gone were entire schools and buildings he used to know. When he finally made it to his village, his entire house was gone. Hilaire made sure the family burials were handled well, took some pictures and paid his respects.

When Hilaire had said his good-byes, he returned to the hospital in Bonne Fin still in shock at the destruction and the number of patients needing amputations. As an interpreter, he had to tell one patient his leg had to be amputated. The man was distraught, so Hilaire did what he could to get the wound treated and the patient put on medications that might help. It turned out, they did, and the man's leg was saved. Hilaire said it felt good to be able to help in whatever ways he could.

Though colleagues have been surprised by the Haitians' resilient spirit, it doesn't come as a surprise to Hilaire. Haiti is a rugged place geographically, and its people have faced a long list of struggles from natural disasters to political upheavals. Hilaire doesn't have family pictures from his childhood because those were lost during a hurricane. "It's a tough place, but in the midst of that people find a way to enjoy life. They are very good people. They have good souls."

When Hilaire returned to MUSC, some people expected him to take a break from his studies to deal with his shock and grief. Hilaire decided to push forward to graduate, and he was able to make up the two weeks of missed time. It helped that his class stood behind him in a way that still surprises him by its generosity.

"When the tragedy happened in Haiti, the amount of support I received from them, the prayers and everything—the financial support that was outpouring—it was just amazing. I don't think I've ever been in such an environment like that. I think the Southern hospitality is just amazing. Once folks get to know you, you're like family to them."

That support and the memory of his mother kept him going, said Hilaire, now a PharmD.

"It was sheer determination. I felt I had to go on. I'm still trying hard to focus, and it's getting better. My mom would want me to go on."

Hilaire, who has 14-year-old twins who live in Miami, said he hopes to work in Miami for awhile after graduation and then eventually return to Haiti to open up his own pharmacy on the outskirts of Port-au-Prince. His father, a Baptist minister, taught him the importance of giving back. Seeing himself as a positive person, Hilaire believes in being involved in community and being available to lend a helping hand.

He knows first-hand how it feels to be supported by such a community, and he thanks God for having placed him in such an environment, he said. The experience has left its mark.

"Life is very fragile. I don't take my loved ones for granted anymore," he said. "You go to Haiti, and you don't take things for granted anymore. It makes life richer."


Friday, May 21, 2010


The Catalyst Online is published weekly by the MUSC Office of Public Relations for the faculty, employees and students of the Medical University of South Carolina. The Catalyst Online editor, Kim Draughn, can be reached at 792-4107 or by email, catalyst@musc.edu. Editorial copy can be submitted to The Catalyst Online and to The Catalyst in print by fax, 792-6723, or by email to catalyst@musc.edu. To place an ad in The Catalyst hardcopy, call Island Publications at 849-1778, ext. 201.