by Dawn Brazell




Public Relations


With research topics covering everything from overactive bladders to nicotine addiction, MUSC's Hero Research Fair April 28 had people covered.

The first of what planners hope to be an annual event showcased a portion of the more than 1,200 active research studies being done at MUSC. People visited booths in the Horseshoe to find out about the variety of studies being done and how to volunteer. Laptops were out to show people how to go onto https://www.researchmatch.org/ to find out about registering for ongoing clinical trial studies.

Kathleen T. Brady, M.D., Ph.D., welcomed the visitors to the fair as director of the South Carolina Clinical and Translational Research Institute (SCTR). The institute's Success (Support Center for Clinical and Translational Science) Center was influential in getting the fair organized.

"There is a study for every single person here," she said. "As someone who has been conducting clinical research for 20-plus years, I can't tell you how important it is to have people willing to give their time and effort to volunteer for research or how grateful I am personally for anyone who has participated in mine or any other study."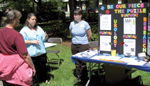 Visitors stop by a booth at the MUSC Hero Research Fair for information on urology clinical trials. The fair was held April 28. For information on the Hero program, visit http://www.MUSCHERO.org. To see a slide show about the first Hero Research Fair, visit http://www.musc.edu/pr/HeroFair/.

Five of the volunteers, called Heroes, were present to receive recognition for their willingness to be in MUSC's advertising campaign to raise awareness of how volunteers are critical to research efforts. One of them, Jim Paquette of Pawleys Island, said the experience changed his life. He participated in an outpatient clinical trail researching a new medication to treat alcoholism.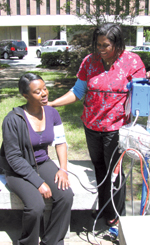 Imani Fickling gets her blood pressure checked by Vernessa Nelson at MUSC's Hero Research Fair.



"The bottom line is that my alcohol consumption dropped dramatically. My elevated liver enzymes became normal. I appeared to look better. I felt better. I felt better because my family witnessed a change in me. They got their husband and father back," he said.

Paquette went on to thank Raymond Anton, M.D., Jane Eddy and Patricia Latham, Ph.D., for their incredible level of care. "I am honored to be here today, and I am honored to be part of the MUSC Hero campaign," he said.

Teresa Kelechi, Ph.D., R.N., and director of the recruitment and retention core for SCTR, said she was pleased by the fair's success, and that organizers hope to expand it next year to include more health care institutions. The fair is a way to make all the research being done behind the scenes visible, and make it more life-like and personal, she said.

As a nurse, her focus is on improving the quality of care for patients, and she sees how research plays a vital role. The public often doesn't realize what a need there is for volunteers in research or how relevant the findings of clinical trials are in improving health care, she said.

"We thought this would give us an opportunity to bring together studies in a forum that's open to faculty, visitors, employees and patients. It makes it visible. It brings the research teams together in one venue and lets them know what other people are doing as well. It allows us to interact with each other. The goal is to become more aware of what's happening at the research level."

The other important role of the fair is to show volunteers the tangible results of their efforts, she said. "We want the public to know we're thankful and appreciative when they help us. In the long run, they are helping themselves—through us they're able to help themselves and others."




Friday, May 7, 2010