1,000 and Counting
Patient makes history receiving lifesaving bone marrow transplant



by Dawn Brazell




Public Relations


Robert Stuart, M.D., walked over to the bedside of Charles Dabney June 4 to give him a smiley-face sticker. Usually Stuart waits a little closer to discharge, but since Dabney is making history as the 1,000th bone marrow transplant patient, he gets VIP treatment.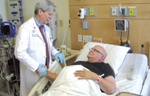 Dr. Robert Stuart gives Charles Dabney a hearty handshake for being the 1,000th transplant patient.



Dabney, who's being treated for lymphoma, pats his bald head and jokes if people like his hair parted on the right or the left. A deep, infectious laugh rolls out as Dabney, of Florence, shares a few family stories. It helps him take his mind off the four syringes of bone marrow stem cells flowing into his heart as part of his cryopreserved, autologous stem cell transplant.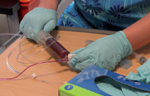 Kristynn Mastillone, R.N., slowly pushes in stem cells.



This type of transplant involves taking stem cells from patients before they get chemotherapy or radiation, and then giving them back to the patient following otherwise intolerable high-dose chemotherapy treatment.

Kristynn Mastillone, R.N., oversees the procedure, checking his vital signs throughout the process. "This is like your second birthday. Later you'll get your birthday cake," she said, smiling.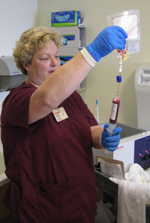 Jeanne Towery,

medical technologist, takes his stem cells, which have been frozen at -190 degrees Celsius and warms them up to room temperature, keeping Mastillone primed for the next batch before she even has to ask. Meanwhile Dabney, 67, and his daughter keep up the banter.

Stuart, the director of the blood and bone marrow transplant program and the medical director of the clinical trials office at Hollings Cancer Center (HCC), loves to see patients such as Dabney, who benefit from the research and amazing advances that have been made since MUSC's first stem cell transplant performed by Stuart in 1987. Today, the program he started is the only one of its kind in the state, the only program that performs both adult and pediatric bone marrow transplants and transplants from unrelated and alternative donors.

"The 1,000th patient is a benchmark of a successful sustained program," said Stuart. "Also, this year for the first time, we're on track to do 100 transplants in a year. That is more or less a benchmark that puts you into an elite group. Most groups don't do that many."

There was a time patients who needed a transplant would have had to travel out of state. That was the case when Stuart first came to MUSC in 1985 as director of the Division of Hematology/Oncology, having graduated from Johns Hopkins University School of Medicine, where he served his residency and fellowship in oncology before joining the Hopkins faculty in 1978.

"My idea was that MUSC should have a stem cell or blood marrow transplant program. I felt it would elevate the medical care to a level that was appropriate for a major university medical center."

Stuart believes that MUSC is poised to become a national leader in organ transplantation and cellular therapy for cancer and regenerative medicine. "Beginning with our outstanding kidney transplant program and with our soon-to-launch lung transplant program, MUSC will have the most extensive transplant capability that exists anywhere."



Hitting close to home


Little did Stuart know how much his decision to start a blood marrow transplant program at MUSC would mean to him personally. In 1997, Stuart was named chairman of the Department of Oncology at the King Faisal Specialist Hospital & Research Centre in Riyadh, Saudi Arabia. In 2000, his wife was diagnosed with acute myeloid leukemia, one of the diseases that he treats.

"It was a shock," said Stuart. "I used to just shake my head. I mean, it happens—Michael DeBakey, the famous heart surgeon. His wife died of heart failure, and he's just standing there and can't do anything. It happens, but it seems like a cosmic joke when it happens."

His wife, Charlene, former MUSC Medical Center CEO and university vice president for finance and administration, had initial treatment in Saudia Arabia, but relapsed quickly. He sat down with her to see what she wanted to do next.

"At the time I offered her the opportunity to go any place in the world because I know all the people—Seattle, Sloan-Kettering, MD Anderson, Johns Hopkins. She told me, 'No, I want to go to MUSC. I know what the hospital is capable of, and I feel comfortable there. And I don't want to die in Houston.'"

They returned to MUSC, and her brother served as a donor for her stem cell transplant, which fortunately was successful. Stuart, who returned to MUSC in 2001 as professor of medicine in the hematology/oncology division, mines his personal experiences battling cancer in relating to his patients. A cancer survivor as well, Stuart was one of the first patients in the state in 1991 to undergo a partial nephrectomy at MUSC to remove only the cancerous half of his kidney. He also participated in Lance Armstrong's 2004 Bristol Myers Squibb Tour of Hope, cycling across America to raise awareness of the importance of clinical trials.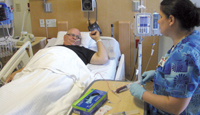 Kristynn Mastillone, R.N., keeps close watch over Charles Dabney during the transplant. The staff works smoothly together from all the practice it gets. There were 78 transplants in fiscal year 2009. By June 9, 2010, the number was 103. The time from referral to actual transplant was 205 days in 2008, 164 days in 2009 and 93 in 2010.



The bone marrow transplant program has been important to the success of cancer treatment at MUSC and has been a catalyst for excellence in many different areas, he said.

"It's not just one guy that scrubs in the OR. It's a whole team. It requires excellence in everything from blood banking to infectious disease and critical care. Nursing is right at the top of the list."

Stuart hopes that Dabney, with his positive nature and infectious laughter, will be around a long time to share his family stories. He's glad to see that cancer isn't always the death sentence it used to be.

"Nowadays when we have an adult diagnosed with acute leukemia in the prime of life—my wife was 53 and was in the prime of her professional career—we expect to cure some people. When I was a student, there was no expectation of cure. The best we could do was get them into remission for awhile. Looking back, that's a pretty satisfying thing."



BMT MILESTONES




Friday, June 11, 2010