Student Life provost committed to excellence



by Cindy Abole




Public Relations


It's been more than a year since Darlene Shaw, Ph.D., took the helm as associate provost for Education and Student Life (ESL) within the Office of Academic Affairs. Within that time, she has managed to achieve many of her goals while building on a renewed sense of energy, enthusiasm and confidence in her division's 168 employees.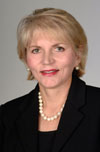 "I truly love my job and the opportunity to work with MUSC leadership, especially President [Ray] Greenberg and Provost [John] Raymond, who themselves are so dedicated to the institution's mission and students' success." —Dr. Darlene Shaw



A psychologist with the division's Counseling and Psychological Services and former associate dean for student life, Shaw provides leadership for a variety of campus services, programs, and initiatives, which includes Enrollment Management, Academic Support Services, the Wellness Center, Counseling and Psychological Services, Center for Academic Excellence, the Writing Center, Student Programs and Educational Technology Services. She works closely with Amy Blue, Ph.D., in the Creating Collaborative Care (C3) initiative to promote interprofessional education and programming.

Shaw assumed the division's leadership in March 2009 after the retirement of MUSC administrator Valerie West, Ed.D., who served in the position for seven years. Rather than invoke dramatic changes after the transition, Shaw chose to build on her predecessor's successes by refining university support services and establishing new initiatives and programs to support a positive learning environment.

"Dr. West did an incredible job bringing organization and cohesion to the division during her tenure," said Shaw, reflecting on how she has tried to build on West's strategy. "I hope I've been a strong advocate for students and excellence in education."

Among Shaw's first priorities was to change the division's name to Education and Student Life, a name that she believes is more reflective of the spirit and proactive approach that her employees have embraced as part of their daily values and overall mission in achieving high standards for service excellence. In her eyes, all people in ESL are teachers inside and outside of the classroom and are active participants in each student's experience at MUSC.

"In addition to students' professional learning in their colleges, we're also educating them about life, professionalism and interprofessional teamwork. It's important that we adopt a more proactive and innovative approach to supporting and meeting our student needs," Shaw said, about the growing bond that's been established between divisional staff and students these past 15 months.



Creating a supportive learning environment


ESL's goal is to create a supportive learning environment where students can grow academically, professionally and personally while learning other life skills such as learning from role models, managing diversity issues and collaborating through teamwork, according to Shaw.

To accomplish this, ESL embraced the institution's MUSC Excellence initiative, a model for the institution that sets high standards for success, recognizes and develops employees and provides quality service and operations. To measure the success, ESL relies on feedback from its annual employee and student satisfaction surveys and other metrics. Last spring, overall student satisfaction increased to 94 percent from 93 percent in 2008. She is proud of the skills and dedication of the ESL faculty and staff. To communicate progress, Shaw meets quarterly with the division's employees to review goals, recognize employees and celebrate achievements.

Willette Burnham, executive director of Student Programs and Office of Student Diversity director said that Shaw has played a significant role and made an impact in the lives of students, faculty and staff. "She's expanded the scope of Student Programs and Student Diversity through emphasizing how we and the ESL division are connected to all areas of the university, the students' interprofessional experiences and specific goals aligned within the academic mission. She's genuinely compassionate and excited about our students and what we do to help them."



Responding to students, employees


Other improvements continue to make an impact on the campus' 2,500 students. New Student Government Association (SGA) President Tyler Pierce worked with former President Sheldon Bates and Shaw to address student issues and concerns.

"In some institutions, there's a substantial divide between central administration and students. However, MUSC leadership works closely with students to constantly improve every facet of the institution. The name change further emphasized a commitment between MUSC's administration and the student body. Changing the name was a step forward in helping students realize that someone cares," said Pierce.

One issue that both students and ESL tackled was a topic of growing concern on college campuses—alcohol use and binge drinking. To assess alcohol use among students, an alcohol advisory group was established and a survey was given to students. Next, a letter was sent to each of the six university deans reporting on student outcomes and comparing results with the national average. In response, a new alcohol education program was developed allowing each college and participating organizations to take turns presenting materials and leading educational sessions for students.

Shaw and SGA leadership are collaborating on other projects—evaluating the university honor code, revamping universitywide student orientation and developing guidelines about the use of social networking tools among students.

In the area of growth, the MUSC Wellness Center continues to meet and exceed its membership and revenue goals through the offering of new programs, expanded staff expertise and new equipment as a way to attract new membership.

Bobby Shaw, MUSC Wellness Center director, said Shaw has been extremely supportive of the Wellness Center. "She has played a major role in our growth. Under her leadership, the center added more than 700 new members and is still growing. She helped us secure funding to upgrade our equipment, as well as complete some much-needed renovations."

Other areas of success include:

improved communications through ESL's totally revamped Web page,
made enhancements in businesses processes and services using information technology,
expanded interprofessional learning and activities through the C3 Initiative, MUSC Gives Back student volunteer program and related efforts,
supported diversity training and cultural competence education featuring the National Coalition Building Institute model,
and maintained the division's financial health by implementing various cost saving initiatives and other strategies.
For the next five years, Shaw wants to see her division moving forward toward specific goals— exploring entrepreneurial opportunities to support ESL funding; more faculty and staff involved in scholarship writing and grant-seeking work; more programs gaining national prominence, such as C3 scholarly activities; and more educational programming that promotes students and faculty efforts in global health and medical volunteering.

An Ohio native, Shaw began her career at MUSC as a clinical psychology intern in 1975. She received her doctorate from Ohio University in Athens and was hired as an instructor in the Department of Psychiatry and Behavioral Sciences in 1976. Since then, she has served in various leadership capacities on campus and was associate dean for student life from 1993 to 2003. She also was executive director for Student Health and Wellness from 2005 to 2009 before assuming her current role.
Friday, June 11, 2010