by Dawn Brazell




Public Relations


The name of the piece on exhibit at the Wellness Center is Morris Island Blues.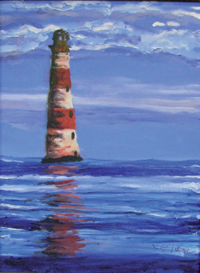 Other than the soothing colors of the piece, there's not a blue thing about it. There's an energy to the depiction of Folly Beach's Morris Island Lighthouse that speaks of other things, like hope and courage. A part of the Art Connects Us Art School's 4th annual exhibition that runs through June, the piece has been chosen to be printed on T-shirts and posters for the 2011 half-marathon and 5K races sponsored by the non-profit group, Save the Light Inc., that is dedicated to saving the lighthouse.

Artist Leland Wilson likes that.



Leland Wilson's "Morris Island Blues" is on display at the Wellness Center through June as part of the Art Connects Us Art School's 4th annual exhibition.



He and the lighthouse have had a tough battle against life's circumstances. Leland, who was born prematurely, has multi-handicaps including cerebral palsy and optic nerve damage, which has left him legally blind, able to read an eye chart at a 20/300 level. It hasn't stopped Leland, 30, though, from pursuing his art thanks to the help of his teacher Dianne Tennyson, who runs the Art Connects Us Art School.

His mother, Donna, said that her son was thrilled when he learned his piece had been chosen. "He was beside himself," she said. "I told them 'you don't want the original picture, do you, because we're keeping that."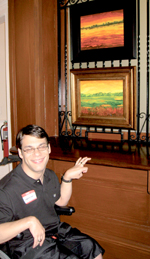 "My philosophy is: We all would be happier and less stressed if we got just one hug every day. I give out as many hugs as I can because I point out that even for a grown man like myself, hugging is still in style—in fact, it is compulsory."


—Leland Wilson, quoted from his Web site



Art has changed Leland's life, said his father, M. Edward Wilson, M.D., director of the Storm Eye Institute and chair of the Department of Ophthalmology. He and his wife gave Leland art lessons about five years ago because he had shown an interest in it in high school.

"Leland has always wanted to be an artist, but until we met Dianne Tennyson and her Art Connects Us program, there was no way to develop his talent," he said. "It is so rare to find artists like Dianne and Eric who are dedicated, patient and caring towards children and those who are disabled or who are grieving."

Tennyson, a registered art therapist, runs the program with her husband, Eric Vincent, who also is a working artist. She said they have about 60 students of all ages, with whom they love to share their passion for art. It's more than just art to them, she said. It's about empowering their students and helping them to find their voices. The exhibit is the first time many of them have been part of a show, and they have been thrilled.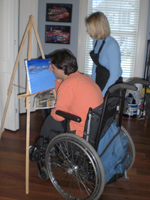 Dianne Tennyson works with Leland Wilson. Though Tennyson assists Wilson, he does the actual painting.



"When I'm doing art therapy, it's not just about aesthetics. We're looking for metaphors," she said of her philosophy in using art for self-exploration. "It's all therapy. The art connects us with ourselves and with each other."

What Leland's parents have noticed in their son is a new sense of joy and fulfillment. Donna said her son and Tennyson talk the whole time she's there assisting him with painting. Though she helps him get set up, he does all the painting himself. Donna said they've enjoyed watching the progression in his work, and he's gotten to the point he has his own Web site: http://lelandwilson.info/.

Leland's father will take pictures of landscapes and Leland picks what he wants to paint. His parents said their advice to others with disabled family members is to get them to keep trying new things.

"You don't know what they can or can't do until you try it," said Donna. "It makes him feel great that he's doing well."

His father agreed that Leland's self-confidence has blossomed.

"There is now a reason for his friends, family members, and co-workers at Lowe's in Mount Pleasant to compliment him," said Wilson. "For a person who cannot excel in academics or athletics, the Art Connects Us experience has been life changing for him, and for Donna and me as well—actually for the whole family."

A portion of the proceeds from the art show supports the Storm Eye SIGHT Free Clinics, and the show helps bring awareness to the clinics' mission, said Wilson. The clinics, which are held in various locations from the Storm Eye Institute to churches and homeless shelters, are organized by MUSC students and residents to provide free, complete eye exams and treatment to the less fortunate throughout the Lowcountry.

"Our doctors and students have logged in over 4,000 hours of community service helping the poor in Charleston get access to free eye care," said Wilson. "Many people with potentially blinding conditions like glaucoma and diabetic eye disease have been found early enough to save sight."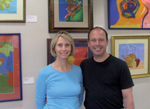 Dianne Tennyson and Eric Vincent stand in front of their students' work.



Wilson said the connection with the Art Connects Us Art School is a great partnership for the Storm Eye Institute.

"Art, art therapy, art appreciation, the beauty of the visual world—these all tie in with the Storm Eye mission of preserving sight and helping people see the world in all of its glory. Our new tag line is: 'Storm Eye Institute—Helping You See the World.'"

For more information on the Storm Eye Institute's SIGHT Clinics, visit http://alturl.com/ijo5.



For More Info


On the Art Connects Us Art School, visit http://www.artconnects.us.
On Leland's art work, visit http://lelandwilson.info.




Friday, June 18, 2010