Two newcomers join dental faculty practice

MUSC's James B. Edwards College of Dental Medicine's Department of Oral Rehabilitation and Dental Faculty Practice welcomes two new faculty dentists, Anthony S. Mennito, DMD, and Jompobe "Joe" Vuthiganon, DMD. Both joined the staff July 1 and are general dentists and clinical instructors named to the college's Department of Oral Rehabilitation, Division of Restorative Dentistry within the James B. Edwards College of Dental Medicine.

Mennito has a faculty position in the college's Department of Oral Rehabilitation. Prior to joining MUSC, he worked in a private practice setting with Allan T. Webb, DDS, in Bamberg. From 2005 to 2007, Mennito was director of education writing and preparation of dental curriculum and published several papers for Dentallearning.org. He received his dental degree in 2003 from Temple University School of Dentistry in Philadelphia and is a member of the American Dental Association, the South Carolina Dental Association and Occlusal Study Club.



Dr. Anthony Mennito



"I'm excited at the chance to work and teach in the college's new clinical education center," said Mennito. "It's considered one of the most advanced dental education facilities in the country, accommodating the latest technologies including X-ray machines with digital radiology and CAD/CAM technologies for dental restorations. I find it a privilege to be able to train new dental practitioners as well as care for patients by helping them improve their overall oral health."

Vuthiganon is a 2009 MUSC College of Dental Medicine alumnus now working as a clinical instructor in Oral Rehabilitation's Division of Restorative Dentistry. He completed his residency in general dentistry from the University of North Carolina School of Dentistry in June. As a dental student, Vuthiganon served as a presidential scholar and was a 2009 recipient of the American Academy of Periodontology Dental Student Award. A member of the American Dental Association, Vuthiganon hopes to resume his volunteer work assisting with the school's participation in Give Kids a Smile Day in February.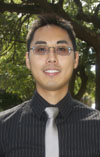 Dr. Joe Vuthiganon



"I'm glad to be back at MUSC working with the faculty and staff whom I consider to be not only colleagues, but also good friends," said Vuthiganon. "I'm looking forward to providing patient care in the new clinical education center building that I didn't get a chance to experience during my predoctoral education."

The Dental Faculty Practice is composed of more than 20 full-time dental faculty who are general dentists and specialists providing comprehensive dental care in a private practice setting. Practitioners provide services in more than eight dental specialty areas—endodontics, oral & maxillofacial surgery, orthodontics, pediatric dentistry, periodontics, prosthodontics and restorative dentistry.

The practice, which is accepting new patients, is on the fifth floor (Room 502) of the James B. Edwards College of Dental Medicine Clinical Education Center, 29 Bee St. To schedule an appointment, call
792-3444.



Friday, July 30, 2010





The Catalyst Online is published weekly by the MUSC Office of Public Relations for the faculty, employees and students of the Medical University of South Carolina. The Catalyst Online editor, Kim Draughn, can be reached at 792-4107 or by email, catalyst@musc.edu. Editorial copy can be submitted to The Catalyst Online and to The Catalyst in print by fax, 792-6723, or by email to catalyst@musc.edu. To place an ad in The Catalyst hardcopy, call Island Publications at 849-1778, ext. 201.