Changing perspectives



New COM dean joins elite group




by Dawn Brazell




Public Relations


When Etta Pisano, M.D., entered the doors of the dean's office in MUSC's College of Medicine July 1, she made history.

Just walking in the door.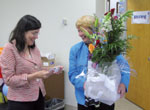 Beverly Carson, assistant to the dean, delivers flowers to Dr. Etta Pisano as she settles into her office July 1.



"It feels great," she said, smiling broadly. Boxes surround the new dean in her corner office on the sixth floor of the Clinical Sciences Building. When she started her job as MUSC's dean and vice president for medical affairs, she joined an elite group of women who head medical schools—a list with little more than a dozen names.

"I know it's great for this institution, but I must say it surprises me that there are so few women deans still at this point in history," she said, noting that woman have made up 50 percent of medical school classes for at least 20 years.

"It surprises me that it's taking this long to rise through the top of the ranks. I'm thrilled that I have this opportunity. I'm glad that the board decided to appoint me. It's very exciting."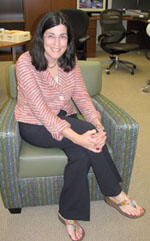 Dr. Etta Pisano



Pisano, who made the cut from a field of more than 60 candidates, is breaking long-term ties from her two decades at the University of North Carolina in Chapel Hill to come here. She brings an impressive legacy that includes an international reputation as a world leader in mammography research.

While in Chapel Hill, she also juggled the roles of being vice dean for academic affairs in the medical school; Kenan Professor of radiology; director of the Biomedical Research Imaging Center; director of the N.C. Translational and Clinical Studies Institute; and wife of a retinal surgeon and mother of four children.

One of those children, her youngest teenage daughter who's a rising junior, had to sacrifice to make the move down here, Pisano said. Having to uproot her daughter and sever ties in Chapel Hill made it a difficult decision, but Pisano knows she made the right one.

"I really think I'm doing this because I want to have an impact on the next generation of young women. It's important for women to aspire to leadership positions and to be at the table talking. I'm really a big believer in the importance of diverse viewpoints. There are going to be changes in organizations because we have diverse leadership."



Growing pains


Pisano always has been drawn to a challenge. Part of it is her personality, but another influence is having lost her mother at a young age. Tears spring to her eyes when she talks of how proud her mother would have been to see her as dean.

Pisano was 15 and the eldest of seven children when her mother died unexpectedly of a brain tumor. Organizing the household fell to Pisano as the eldest, especially given the busy schedule of her father, who was a radiologist. She had to learn to drive in a matter of weeks.

"The most important thing it did for me is taught me at age 15 that I could do anything. I could take charge. It was intense," she said. "It sounds almost too strong—that I could do anything, but it really taught me that I was strong. A lot of young women don't know that about themselves, so I was taught that sort of trial by fire."

When people have asked her to take on tasks over the years, she has said yes.

"I never thought to myself 'I can't do that.' Never once. I'm sure there are things I can't do. I can't do neurosurgery. I can't do things I haven't been trained in. But most things that have to do with management and organizing and being a mentor to people—none of those things scare me—because I've done it."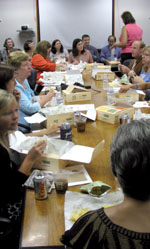 Pisano is honored at the dean's luncheon.



The other thing she learned to do is to surround herself with great people, she said. Her father delegated tasks to her siblings after the loss of their mother, and they all worked together well as a team. She does the same with her research and academic positions. Pisano, who sometimes gets described as superwoman, said it's a misnomer.

"I don't like the label superwomen because there is no such thing as a superwoman. It's nothing really remarkable. It's really recruiting great people and working on great teams. You have to have really great people working with you."



In full bloom


As a researcher, Pisano learned long ago to surround herself with the right team. She's bringing some of her staff with her to MUSC, including Jennifer Nall, assistant dean for academic affairs, Elodia Cole, a clinical researcher and laboratory manager, and D.J. O'Connor, Ph.D., a research assistant professor.

Though she'll be scaling back somewhat on her research, it still will remain an important priority, she said. The New York native is a graduate of Duke University School of Medicine and she trained in radiology at Harvard-affiliated Beth Israel Hospital.

Her landmark study on digital mammography for cancer detection in women, the biggest trial ever run by a radiologist, involved 33 centers in the nation and Canada and 49,500 women. It demonstrated that digital mammography is better than conventional methods for women under 50.

"It was a very successful trial, and we accrued on time and on budget. We proved that digital was better than film—found more cancers with no increase in false positives for young women, women with dense breasts, women who are pre-and peri-menopausal."

Pisano also has served as principal investigator on more than two dozen other publicly-funded research studies, with her aggregate grant total topping $95 million. She holds three patents and founded NextRay, a radiology company.

One of her interests includes exploring the benefits of diffraction-enhanced imaging.

Pisano said she wants to remain involved in the research of evolving technology that can improve the field of mammography and cancer detection. "That's an important thing for the women in the community to know about. Essentially any new technology that is being tested or proven in breast imaging, we'll be doing that."

Even her passion for this work, though, has it ties to her mother.

"It made me a more compassionate person," she said, recalling how her mother's death changed her. "When I talk to women about having breast cancer, I know what their fears are. I've been a vice dean for academic affairs for four years—nothing I've done as a dean has been as hard as telling a woman that she has breast cancer. My mother's death has helped me to have a goal of wanting to have an effect on women's health."

Pisano said the field of radiology has allowed her to make an impact in her goal to save women's lives.

"We've been hugely successful with breast imaging and breast cancer detection and diagnosis and treatment over my lifetime. It's just been amazing. We're saving many more women than we used to—most, in fact."



Balancing act


Loving water sports, the Pisanos are happy to get settled into their home on Sullivan's Island. Pisano's husband, Jan Andrew Kylstra, M.D., will practice at MUSC's Storm Eye Institute starting in November. He's been in private practice for 10 years and is excited to return to an academic environment.

Pisano said he's a role model in many senses more than she is.

"Most men, I would say, don't follow their wives in their careers. The norm is still to follow the husband. It takes a certain kind of relationship," she said. "It required the support, the love, the enthusiasm of my husband. Not everybody has that. I think it's much more common for the man to have that kind of support than for woman to have that kind of support. It took a lot of work for us together to be able to do this."

Pisano said their mutual support of each other helped them figure out a life that works for them both despite having demanding jobs. She always keeps family a priority. She's the type who plays hard and works hard.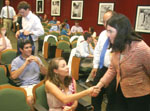 Pisano greets 4th year medical students July 6.



An organizational guru, Pisano is known to give talks on management and executive skills. She has a streamlined management style and is organizing her office to be paperless. Her top tip to others in this area reflects her Quaker beliefs of being intentional about building contemplative time into each day. The biggest mistake busy people make is to fail to spend time daily planning, she said.

"It's about being very deliberate, conscious of what you want to accomplish and why, and then you can think about how you're going to get there. The point is that you have to set aside time to do that. Most busy people fill up every minute of every day, and you just can't do that or you'll make yourself crazy."

Pisano sets aside two hours a day as thinking time or to do planning with others. "That's a really big deal. You can't expect things to happen without some contemplative time. If I didn't do it, I wouldn't be as effective as I am in my life."

Taking that time helps her target what she really wants to accomplish. Right now, she feels drawn to influence the next generation, she said.

"When you get to be middle-aged, which I definitely have, you start thinking how is my life going to affect the next generation. What am I doing that will really matter? That's part of why I aspired to this position. I could be a dean and affect the medical school's classes, the students. I think advocating on behalf of that perspective is important to me."

Friday, July 9, 2010