by Cindy Abole




Public Relations


With the rollout of a statewide comprehensive communications campaign Aug. 12, MUSC will show how it is "changing what's possible."

The position statement captures MUSC's mission to clearly define it as a leading academic medical center dedicated to patient care, research and education, and its commitment to making health care better for everyone, according to Christine Murray, MUSC Business Development and Marketing Services director.

MUSC President Ray Greenberg, M.D., Ph.D., said he's excited about how the campaign captures MUSC's mission.

"The central idea of the campaign is that as an academic medical center, MUSC offers benefits to the residents of South Carolina, the Southeast and beyond," said Greenberg. "We are recruiting leaders in health care research, education and clinical care. As we grow, we are enhancing patient access to world-class care here on campus and through our outreach and telemedicine initiatives to patients throughout the state and region. Those we serve benefit from an environment of patient-centered care with a focus on quality and effectiveness, which in turn lead to better patient outcomes."

The MUSC community is invited to a preview of this multimedia campaign featuring advertising and marketing materials at various locations:


Aug. 12

—11 a.m. to 5 p.m., Main Horseshoe; 11 a.m. to 8 p.m., ART Auditorium; and 6 to 8 p.m., 2W Amphitheater.

Aug. 13

—5:30 to 7:30 a.m., ART Auditorium; and 5:30 to 7:30 a.m., 2W Amphitheater.

The initial focus features MUSC's innovative research and clinical advances in cancer, heart and neuroscience. These areas represent the highest disease incidences in South Carolina.

MUSC clinicians, researchers, faculty and employees are committed to developing promising treatments, cutting-edge research and exceptional patient care throughout the institution.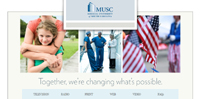 The campaign was approved last spring and involved the leadership of a campuswide communications team, according to Murray.



For information, visit the campaign's internal Web site at

http://www.musc.edu/ourmusc

.



"The Medical University is an amazing place to work, where lives are transformed every day. Our hope is that very soon every South Carolinian will know what we are doing to create a healthier and more prosperous state. In the meantime, let's work together to spread the message of all the good work that you are doing," Greenberg said.



Employee, cancer survivor confident in MUSC



When Developmental Biology scientist and associate professor Ann Ramsdell, Ph.D., was diagnosed with stage 3 invasive breast cancer, she felt it was the most terrifying thing that ever happened to her.

But Ramsdell, who earned her doctorate from MUSC and has been with the institution since 2002, did not waver when it came to trusting MUSC Hollings Cancer Center and a team of experts to guide her in her care.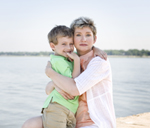 MUSC's Dr. Ann Ramsdell with son, Griffin.



"It was like winning the lottery when it came to getting the best health care team possible to help me get through this," Ramsdell said.

Ramsdell is now cancer-free since March, currently in remission and participating in a clinical drug trial. She has returned to work and is enjoying what life offers her, especially as it relates to her sons, Griffin, 6, and John-Anson, 4.

Ramsdell's story is one of three patient videos that were created in conjunction with MUSC's Changing What's Possible communications campaign. During the Aug. 12 and 13 preview event, communication campaign organizers will provide Flip video cameras to allow MUSC employees to share, in their own words, examples of what they're doing to improve patient care, strengthen outcomes and changing what's possible.

For information, visit http://www.musc.edu/ourmusc.



Friday, Aug. 13, 2010