High-tech surgery speeds recovery




by Dawn Brazell




Public Relations


Jason Schroyer, 21, is ready to stand tall. He's ready to wake up and not check his pain level to know if he'll be able to go into work that day.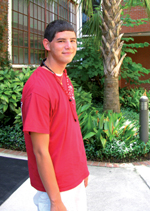 Jason Schroyer



He and his family hope that will be a reality for him after this week as he recovers from a video assisted thoracoscopic surgery (VATS), the first to be performed at MUSC and in the state by a physician who helped pioneer endoscopic techniques in the early 1990s. Barton L. Sachs, M.D., associate executive medical director, Orthopaedic Surgery, came to MUSC in February 2009 with experience from Tufts Medical Center and Albany Medical Center, and having spent nine years at a private, large-scale, specialty care practice, The Texas Back Institute.

One of his goals in coming to MUSC was to build up a team and the equipment needed to provide this type of procedure, he said. Doing this type of spinal surgery takes an investment by the hospital because of the expensive equipment and the extensive training required, said Sachs. The payoffs of a faster recovery time, fewer pain medications, less scarring, and a shorter hospital stay make it well worth it for the patients who don't respond to conventional therapy.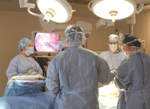 Dr. Bart Sachs, chief surgeon (far right), and team perform MUSC's first video assisted surgery for the spine.



That was the case for Schroyer, who has suffered from Scheuermann's kyphosis since his diagnosis in eighth grade. The condition occurs when the front of the upper spine does not grow as fast as the back of the spine, so that the vertebrae become wedge-shaped, with the narrow part of the wedge in front. It causes a rounding in the upper part of the spine. Schroyer did physical therapy that is typically prescribed for the condition, but found it didn't help.

"The pain is very intense. There are some days I can't go out. I have to stay home. I lie on the couch or in bed all day. My brother has to do all my errands for me," he said, adding that recently his legs have started going numb, which has caused him to fall. "I've been home by myself all three times I've fallen because my brother was at work. It's hard. It's rough, and depressing. We just take it a day at a time."

Schroyer underwent the first of two surgeries Aug. 16, with the second part of the surgery being performed Aug. 20.

Possessing a polite, Southern demeanor, reflective of his Hampton roots, Schroyer said he loves working as an emergency medical technician and looks forward to being able to return to work. Because this surgery avoids the 14-inch scar of an open general surgery where surgeons would have to open the chest, the recovery should be faster—fast enough if all goes well that he can be at the University of South Carolina's Gamecocks' opening football game Sept. 2.

The thought brings a big grin to his face and that of his twin, Catlin, who plans to keep him motivated to get through the upcoming physical therapy.

Sachs said Schroyer should be at that game.

"The picture speaks for itself," he said, referring to an image of a patient with a 14-inch scar running across the chest. "The big incision is painful. It's deforming, and it takes longer to heal."

The spine reconstruction that Sachs and his team did, on the other hand, involved making four small incisions on Schroyer's side for the insertion of a camera, a light, and surgical instruments. The surgery is viewed on video screens.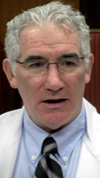 Dr. Bart Sachs



"The operation is highly technical and requires a lot of orchestration, much like conducting a symphony," said Sachs. "Everything is planned out. We know what movement starts at what point and what instruments go in where."

Though endoscopic surgery is not new, taking the technology and applying it to the spine is new for MUSC, he said.

"This is a team approach. This is not a cowboy, independent, commando-like Rambo type surgery. This means that there is a lot of coordination. There are two surgeons at the table on each side. We have to know what each other is doing and what our moves are. We have to have the right nursing team and the right equipment."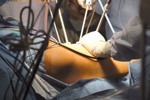 The surgery involves four incisions for the insertion of a camera, a light, and surgical instruments. The surgery is viewed on video screens.



The complex and highly technical surgery involves surgeons inserting instruments between ribs and gently moving the lungs and heart aside to reach the spine, where they have to be careful to avoid delicate nerves. Then they begin reconstructing the spine, loosening up the space between the vertebra, removing discs, and opening up each vertebrae separately, realigning the spine piece-by-piece.

Once they have the spine repositioned, they attach screws and rods to lock it into place. "The body interprets that as multiple broken bones and goes in and heals it up to make it one solid piece, and locks it together so the spine is left in one nice solid position," he said.

Sachs said this type of 'Nintendo' surgery requires additional training for the doctors and operating team.

"Most surgeons are used to looking at their hands and their tools in front of them. This is completely opposite. I'm looking at a TV screen over here and my hands are working down here, and I'm not watching them. My hands are controlling instruments that are 18 inches long, that I'm trying to watch and control from a screen."

For patients who haven't responded to conventional treatments, though, this offers a good alternative, he said. "This is a boon for the patient, offering the advantage of having major invasive surgery through minimal invasion into the body and minimal discomfort and faster recovery."

Sachs, who's enjoying bringing together the disciplines of neurosurgery and orthopaedics, said offering procedures such as VATS is part of the plan for MUSC in developing a comprehensive, multidisciplinary center for spine care. "We want to service the whole Southeast region as a premiere leading spine center where we can become a center of excellence."

Meanwhile, Schroyer can be getting back to his normal self.

His mother, Wanda Walker, said she was relieved to have the option of the minimally-invasive surgery. Her son's quality of life had worsened to the point he wasn't able to do the things he loved. He's always been a people-person, volunteering to help the elderly in their church, she said.

Schroyer, who probably will have to give up his volunteer firefighting jobs, said he hopes the surgeries will allow him to return to being an EMT. "I love interacting with people—helping people and making a difference—that's my whole goal."

That, and making the Gamecocks' game.
Friday, Aug. 20, 2010