Students strive for medical school success




by Cindy Abole




Public Relations


The proverb "practice makes perfect" is a saying that anyone looking to achieve success in life can embrace. So when six smart and determined young men and women were chosen from a field of applicants and invited to attend a six-week intensive study program at MUSC aimed at preparing them for a career in medicine, they eagerly agreed.

The MUSC Summer Institute program is a continuous and successful collaborative program sponsored through the College of Medicine, Center for Academic Excellence (CAE) and other groups created to help recruit and prepare potential medical students from throughout the state through rigorous study and professional academic preparation.


Fourth-year medical student Jason Curry advises Summer Institute student Sharonda Williams about how to prepare for medical school interviews during a Aug. 3 lunch and discussion between institute students and current medical students. Curry is joined by fellow students Adonteng Kwakye, Rahim Wooley, Claudia Fields and Simon Brown. Not pictured is medical student Jessica Tolley.



The program was established under MUSC's Office of Diversity and has evolved since its beginning in 1997. Organizers saw it as an effective pipeline program for recruiting and preparing minority students seeking medical and health care careers. Current applicants to the program either must be a recognized minority or come from a rural town or county in South Carolina. Participants also must have previously applied to MUSC's medical school.

This year's class may not have been the largest group compared to previous years, but the smaller number demonstrated a strong work ethic, promise and a capacity to excel, said program director Myra Haney Singleton. This year's six participants were Prashant Bhenswala, Ashley Davis, Kristen Forrest, Christopher "Cale" Homesley, Tanisha Hutchinson and Sharonda Williams.

Students participated in the six-week academic program that focused on test review and preparation, study skills and strategies, plus discussions taught by medical school faculty and staff reviewing the medical school admission process, career counseling, medical ethics, professionalism and a host of related topics. Much of the curriculum aims at reviewing science topics—physics, biology, general and organic chemistry—all part of the Medical College Admissions Test or MCAT.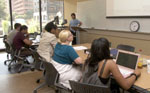 The six MUSC Summer Institute students review notes with student instructor Aly Bourezza for an upcoming practice test in organic chemistry. The group spent their afternoons conducting physical sciences, biology physics, general chemistry and verbal reasoning practice reviews featured on the Medical College Admissions Test.



Greenwood resident and College of Charleston alumnus Kristen Forrest was excited at the chance to participate in the summer institute. Forrest, who applied to MUSC's medical school last spring, needed to improve her MCAT scores and was invited to be part of this all-inclusive residential program. She's currently on track to finish her master's degree in health, exercise and sports science from The Citadel this December.

"I knew this was a good opportunity for me," said Forrest, who arranged to take six weeks off from her job to attend. "I've never regretted it. The program has taught me so much about time management, balance and skills that will be invaluable to me. It's given me confidence in myself to realize my potential and meet my dream to someday become a doctor."

The curriculum structure and academic support was led by CAE faculty and coordinated under the leadership of co-program instructors Amena Smith and Peter Tang, both Medical Scientist Training Program students in the College of Graduate Studies. Both were supported by a dozen fellow MSTP and medical student instructors in instruction and tutoring support.

Classes and seminars took place at the Colbert Education Center & Library. Instructors incorporated key assessments and review techniques from the start to gauge each student's knowledge base and established strategies to teach and review topics combined with continual tests, feedback and homework, according to Smith, who has been an instructor with the program since 2006. They even reworked the MCAT practice exam, typically a five-hour test that recently transitioned from paper to online, using a shorter format and focused on timing techniques for individuals. They also were encouraged to register to take the MCAT within two weeks following the end of the program Aug. 6.

"All the students did well and have shown good, steady improvement based on the range of scores that we've recorded. Our philosophy is practice…practice…practice," said Smith, who expects all six students to make it to medical school. "It was through their energy and commitment that made this a fun and enlightening experience for all of us involved."

Just as important to the test taking and curriculum was the program's emphasis on bonding and social networking. Participants lived in dorms provided for them by the College of Charleston. Smith and Tang organized more social functions including dinners, happy hours, activities such as Charleston RiverDogs baseball games, beach outings, etc. Students also received temporary memberships to the fitness facilities at the MUSC Wellness Center.

Singleton saw something special in this group from day one of the program, which began June 28.

"From the beginning, this group was readily interested, engaged and focused with their attitudes in completing this program," said Haney, director of academics and student support of the College of Medicine's dean's office. "I was especially impressed with how quickly they bonded as a team and encouraged each other. We established a great program with a demanding schedule and these students rose to the challenge and did well."

Participants also valued the chance to meet medicine faculty and staff throughout the program. Student Tanisha Hutchinson felt at home and taken care of throughout the program in regards to housing, parking, meals and other needs. A May pathology master's graduate from MUSC, Hutchinson always saw herself working in medicine as a doctor. She liked how the program addressed medical professionalism and realized the value of students transitioning from a school setting to a professional environment working with patients.

Less than a week after the program ended in early August, Hutchinson was the second student from the group to take the MCAT. Her classmates soon followed taking the test within the following week. Although they won't know their official results for a month, most believed they had made overall improvements in their efforts.

"I feel confident that I performed much better on the test after completing the Summer Institute," said Hutchinson. "There were certain questions and topics on the test that I specifically remember going over during the program. Also, the amount of practice tests we took really helped boost my confidence and prepared me for how the test would 'feel' as far as having enough stamina to get through the test."

For now, the students will return to jobs and activities they were involved with prior to the institute's start. Some will begin or return to their master's studies and others will start new jobs in health care until they re-apply again this fall in hopes of matriculating in August 2011.

Friday, Aug. 20, 2010

The Catalyst Online is published weekly by the MUSC Office of Public Relations for the faculty, employees and students of the Medical University of South Carolina. The Catalyst Online editor, Kim Draughn, can be reached at 792-4107 or by email, catalyst@musc.edu. Editorial copy can be submitted to The Catalyst Online and to The Catalyst in print by fax, 792-6723, or by email to catalyst@musc.edu. To place an ad in The Catalyst hardcopy, call Island Publications at 849-1778, ext. 201.