Sisters share a battle against leukemia




by Renee Dudley




The Post and Courier


Both Chester natives want to become nurses. They love texting their friends, painting their nails bright colors and checking the social networking site Facebook "like, all the time," said 22-year-old JaNell as 19-year-old Juleesa nodded in agreement.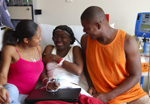 JaNell Pickett (left) and her father, Ricky, keep the atmosphere light during a visit with Juleesa Pickett at MUSC. The Pickett sisters were diagnosed with leukemia within two months of each other. photo by Post and Courier



One of their shared connections, though, is far more grave. Both suffer from leukemia, having been diagnosed within months of each other last spring. Juleesa's oncologist at the Medical University of South Carolina called the dual diagnoses a coincidence "unheard of in the medical community."

Juleesa Pickett, a former high school cheerleader, thought she might have had a hamstring pull as her senior year drew to a close.

When the athletic high school senior grew progressively weaker, doctors ordered blood tests. The results confirmed that Juleesa was in the early stages of lupus and was suffering from an aggressive form of leukemia. She was in desperate need of a bone marrow transplant to survive.

Tests run in May showed that JaNell was a perfect match. They also revealed news that the family never could have expected to receive on the heels of Juleesa's diagnosis: JaNell too had leukemia. Hers, caught in an early stage, was less severe.

The girls' father, Ricky Pickett, who had recently lost his job when his employer went out of business, had been at a friend's funeral when JaNell left him a message to call her back immediately.

Pickett remembers hearing his daughter's news.

"I couldn't do nothing but cry and hit my hand on the bed," he said. The doting father sleeps on a hospital bed beside Juleesa in her room—specially filtered to help prevent infection—at MUSC.

He trades weekly rotations there with the girls' mother, Lavonne Robertson, so Juleesa is never alone. "We keep God first. We ask people to pray for us."

Pickett said he considers even his sudden unemployment to have been a blessing in disguise. "It's enabled me to be here for my daughters," he said.

Juleesa's doctor, Michelle Hudspeth, identified a blood donor for her patient this summer, a task she said was challenging because matches generally fall along ethnic lines. The national marrow register reveals a dearth of African-American donors, Hudspeth said.

Juleesa was admitted for treatment—including the blood transplant, radiation and chemotherapy — last month at MUSC Children's Hospital, where she will remain until early September.

JaNell, a rising senior at Francis Marion University whose leukemia is less aggressive and is treated by oral medication, stays by her sister's side as much as possible.

Barring complications, Juleesa will move into an apartment at the Ronald McDonald House in early fall. Hudspeth said Juleesa will stay there for 100 days so she can get to the hospital for appointments easily instead of trekking more than two hours from Chester.

After that, Juleesa wants to begin her studies to become a pediatric nurse. She will, after all, have a most sympathetic ear.

"It's something I could do for the rest of my life," she said.



Editor's note: The article ran in the Aug. 14 issue of The Post and Courier and is reprinted with permission.
Friday, Aug. 27, 2010

The Catalyst Online is published weekly by the MUSC Office of Public Relations for the faculty, employees and students of the Medical University of South Carolina. The Catalyst Online editor, Kim Draughn, can be reached at 792-4107 or by email, catalyst@musc.edu. Editorial copy can be submitted to The Catalyst Online and to The Catalyst in print by fax, 792-6723, or by email to catalyst@musc.edu. To place an ad in The Catalyst hardcopy, call Island Publications at 849-1778, ext. 201.