Camp buddies celebrate play with fun, friendships

by Cindy Abole




Public Relations


For the fifth consecutive summer, preschool-aged children spent four care-free days playing and interacting with others at the fourth annual Down Syndrome Association of the Lowcountry (DSAL) Buddy Camp held, June 12-15, at Providence Baptist Church on Daniel Island.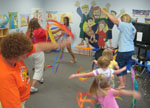 Twenty pre-school campers, 10 of whom are children with Down syndrome, attended the event. Campers, ages 3 to 6, were encouraged to bring a buddy to share in this positive interactive experience. A buddy can be a friend or family member who wants to participate in the summer camp experience. This inclusive camp provides children, with or without disabilities, an opportunity to play and interact together in a variety of activities that includes music therapy, language arts, arts and crafts and other hands-on activities.

"Buddy Camp is a wonderful experience for everyone involved—campers, their buddies, counselors and parents," said Diane Andrews, clinical manager in MUSC's Department of Speech Language Pathology-Evelyn Trammell Institute for Voice & Swallowing. "For participants, it is a magical fun-filled week as children learn from each other about the basics of friendship starting at a young age. These children and their families are truly inspirational."

This year's camp theme was "on the go" and centered around activities that involve motion and transportation. A popular activity involved tricycle, bicycle and scooter riding where campers were encouraged to bring and ride their own bikes in an effort to practice their motor skills. Staying with that theme, campers also took part in an arts and crafts activity that helped them create a road race's checkered flag. Campers also enjoyed a visit from four therapy dogs with K9 Cares Therapy Dogs and a safety talk by neighborhood Daniel Island firefighters.

The camp was founded in 2006 by Andrews and Tish McAfee, both camp coordinators and speech language pathologists in the institute. They collaborated with colleagues, Tricounty therapists, DSAL parents and other community advocates to establish a first-ever camp of this kind for Lowcountry children born with Down syndrome. In this year's camp, counselors were recruited as student volunteers from the College of Health Professions' Physical Therapy Department. They were Bradley Boyles, Hannah Foster, Crissy Freeman, Jennifer Oritz, Jen Tomme and Deanna Thomas, a graduate intern in Speech Language Pathology. Other counselors included new and returning college and high school students.

Several campers celebrated milestones at this year's Buddy Camp, including perfect attendance throughout the past four years. Organizers recognized the birthday of Daniel Island's Ella King, 7, who was diagnosed with leukemia last spring. With her family and friends' support, Ella was able to return to Buddy Camp for one day in 2009. To rally around Ella and her family's needs, DSAL parents organized a community bone marrow drive in her honor during last year's camp.

Melissa Kim, Ella's mother, said her daughter's celebration this year felt complete as she was surrounded by her camp buddies and best friends, Claire Vail and Joe Durante.

Kim said Buddy Camp is good for all the children. "It all starts with Buddy Camp and how a child understands inclusion among children around them," she said. "If children grow up around others with disabilities, they know what it's like and are not afraid to play and interact with them. They may realize that it may take longer for their buddy to do an activity, but the child won't care and may even help them complete the task. It does a lot for each child and provides a great perspective for them at a young age."

According to Andrews, Buddy Camp meets DSAL's overall mission in promoting awareness, inclusion and acceptance of individuals diagnosed with Down syndrome. The camp is primarily funded through fundraising connected with DSAL's Lowcountry Buddy Walk held in October. Thanks to the camp's popularity and success, Andrews already has been contacted by more than 15 Down syndrome organizations in other states to start similar Buddy Camps.

"It's amazing how this effort has evolved thanks to the support of many caring and dedicated individuals in the community, especially DSAL families," Andrews said." This group is committed to working together in so many ways. It's exciting that kids look forward to it year after year."

The 7th annual Buddy Walk will take place Oct. 3 in Etiwan Park, Daniel Island. For information, visit http://www.dsalowcountry.org/.



Friday, Aug. 6, 2010





The Catalyst Online is published weekly by the MUSC Office of Public Relations for the faculty, employees and students of the Medical University of South Carolina. The Catalyst Online editor, Kim Draughn, can be reached at 792-4107 or by email, catalyst@musc.edu. Editorial copy can be submitted to The Catalyst Online and to The Catalyst in print by fax, 792-6723, or by email to catalyst@musc.edu. To place an ad in The Catalyst hardcopy, call Island Publications at 849-1778, ext. 201.