Dragonboat Charleston made headlines during the national competition in Chattanooga, Tenn., July 23 - 25, bringing home 14 medals.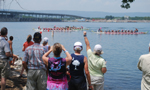 Dragonboat Charleston team members cheer on other members to a win in the 200-meter race at the recent U.S. National Dragonboat Championships.

Photo by Caroline Elizabeth Mitchell



The group sent five teams to compete in the U.S. National Dragonboat Championships: a Breast Cancer Survivor team, two Grandmasters' teams (ages 50 and over) and two Premier teams (under 50). Dragonboat racing involves up to 20 paddlers in a 48-foot wooden boat with a dragon head on one end and a tail on the other.

The Charleston's Breast Cancer Survivor team won gold medals in the 200-, 500- and 1,000-meter races. One Grandmasters' team won a Gold and the other a Bronze. The Premier Women's team and the Premier Mixed team both won bronze medals. The other medals received were for individuals and team spirit.

The Grandmasters' team that won a gold medal also won a berth at the 2012 World Club Crew Championships to be held in Hong Kong, China.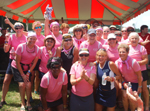 The Breast Cancer Survivor winning team of the 1000-meter race. The group started in 2003 through the leadership of MUSC and Hollings Cancer Center.

Photo by Dell Kendall



Team member Edie Hering, administrative assistant in the Office of the President, said that it was an exciting and very emotional weekend. It was an amazing accomplishment for the breast cancer team and the organization overall, she said.

Dragonboat Charleston took five teams this year with more than 100 people, many of whom were MUSC cancer patients, MUSC cancer survivors and MUSC employees who love to support the group.

"It's like a big family," she said. "They just have a passion for life."



Friday, Aug. 6, 2010