Editor's note: Welcome to the Global Health page. The purpose of this feature is to raise awareness of global health issues with an academic spirit to help improve the quality of care provided to patients. E-mail globalhealthnews@musc.edu.

by Kristina Andrijauskaite
Graduate Student
Many people still think that Lithuania is part of the Soviet Union, but they are incorrect. Lithuania became the first independent Soviet republic in 1990, and now is a member of the European Union, NATO and other international organizations.

Lithuania is located in the geographical center of Europe and shares borders with Belarus, Poland, Latvia, and Russia. It has about 3.5 million inhabitants and its official language—Lithuanian, is the oldest language in Europe.

Despite being a small country, Lithuania attracts visitors from all over the world to get unique health treatment services ranging from herbal baths to light therapy sessions.

Lithuania's largest health resort, Druskininkai, offers a unique amber-aroma music therapy. Designed and patented by Lithuanian scientists, it is believed to have a healing, anti-inflammatory and calming effect. The therapy begins after a piece of amber, a fossilized tree resin, is placed on the patient's neck. The patient is moved on a mattress filled with small pieces of amber, and the special music along with the smells coming from the amber and various herbs allow the patient to relax and enjoy the tranquility. It is scientifically suggested that amber biologically affects various zones of the human body, improves the functions of the endocrine system, and releases biologically active amines (e.g., serotonin "happiness hormone"). The Palanga Amber Museum, located in another health resort, holds the world's largest collection of amber, often called "the gold of Baltics."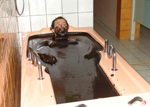 A client takes a therapeutic mud bath.

Many other health treatment therapies in Lithuania include the use of mineral water and therapeutic mud. Mineral water has a positive effect on the mucous membrane of the stomach, reduces stomach acidity, regulates gastrointestinal motorics and the exchange of electrolytes and hormones, and strengthens the immune system. Patients can drink water of different mineralizations and compositions straight from the springs. Therapeutic mud is the product of long decomposition of vegetative organisms with almost no exposure to oxygen taking place in low marshlands. Because of the mud's physical, chemical and microbiological properties, it is suitable to be used for treatment with baths, applications and compresses. It is effective in treating peripheral nervous system disorders, various chronic inflammatory processes, allergic and autoimmune cases, and joint, muscle, digestive, gynecological and urological illnesses.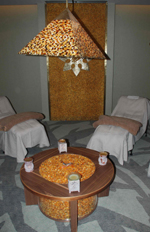 An amber-aroma music therapy room in Lithuania.

The Lithuanian Sea Museum is one of only a few in Europe that offers dolphin therapy sessions for children with psychological and physical illnesses, with an emphasis on autistic children. Parents believe their children benefit from the calmness they obtain from the dolphins and clinical trials have shown an improvement in these children.

These are just few unique health treatment services provided by different medical centers across Lithuania.

Facts about Lithuania

The official name of Lithuania is The Republic of Lithuania.

Lithuania is situated in Eastern Europe, between Latvia and Russia, and stands bordered by the Baltic Sea, Belarus and Poland.
Lithuania is one of countries that make up the Baltic States. However, contrary to what the name suggests, the states do not share political unity.
The official language of Lithuania is Lithuanian. However, the majority of the people speak Russian and English also.
Lithuania is spread over an area of approximately 65,300 sq km (25,212 sq miles) and is about the same size as West Virginia.
The state of Lithuania is an independent, democratic republic and follows Parliamentary democracy.
Lithuania was the last country in Europe to be converted to Christianity. Before Christianity, the country's religion was Romuva.
The capital of Lithuania is Vilnius.
Juozapines Hill (294 m) forms the highest point in Lithuania, while the largest and longest river in the country is Nemunas.
Lithuania had only one king during medieval times, King Mindaugas.
The first publishing house in Lithuania was founded in Vilnius, in 1522, and the first Lithuanian Book was published in 1547.
The mother of Pope John Paul II was of Lithuanian descent.

Lithuania was the first Soviet republic to declare independence from the USSR.

Lithuania joined the United Nations on Sept. 17, 1991 and the European Union on May 1, 2004.
Announcements
New International Student Orientation
Aug. 25, 4 - 5:30 p.m. (light dinner), SW 224 Harper Student Center

ISA/IA Steering Committee Meeting
Aug. 31, 5 - 7:30 p.m. (light dinner), Executive Conference Room, Harper Student Center

ISA/IA 'Welcome Back' Lunch
Sept. 1, Noon - 1 p.m., Harper Student Center Auditorium



Visit http://www.musc.edu/international.

Friday, Aug. 6, 2010