Lifesaving action earns employee top award


Anyone in trouble would do well to have Brian Libby, an emergency medical technician and part-time employee with Meducare, around.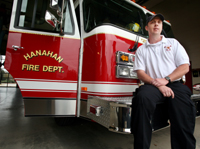 Brian Libby, a member of the MUSC Meducare team and a Hanahan fire captain, won MUHA's 2010 Employee of the Year.



Libby won the Medical University Hospital Authority's 2010 Employee of the Year award Aug. 3.

The award is based on Libby's heroic actions in saving James Burrell, who was trapped behind the wheel in his van. Libby was working as the pediatric team driver for Meducare when the team went to Orangeburg
to pick up a patient for transport back to MUSC. On the way back, he saw a vehicle accident that had just occurred at the 187-mile marker near Ridgeville.

He stopped and notified dispatch that the car was beginning to catch fire. He then called back via radio and asked that they notify Berkeley County Emergency Medical Services and Rescue because the driver was trapped and the car was almost fully engulfed in flames. Miraculously, Libby was able to remove Burrell just as the fire was reaching the driver's side. Meducare's Melissa Feather said Libby put his own safety aside to help Burrell, who was flown by Omniflight Charleston to MUSC. Burrell did receive some burns.

Libby, although soaking wet from the knees down from wading through a ditch, was uninjured except for a few small scratches.

"Words simply can't express how proud I am of Brian and, in general, the people I have the pleasure of working with. This patient lived to see Christmas because of Brian. What better gift than that," Feather said.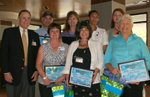 MUHA Nominees


Ten medical center employees were nominated for the 2010 Employee of the Year. Pictured (left, front row) are: Mo Geisler, Children's Services; Eileen McLaughlin, Psychiatry; and Linda Ernst, Perinatal Services. Stuart Smith, medical center executive director, joins nominees Mark Daniell, (back row) Perinatal Services; Johnna Jackson, Rutledge Tower 1 Children's Specialty; Michelle Polite, Psychiatry; and Sheri Stewart, Pediatrics—Education, Clinical Resource. Not pictured are Stacie Buckley, House Options Pool; and Robert Kippes, Respiratory.

Friday, Aug. 6, 2010

The Catalyst Online is published weekly by the MUSC Office of Public Relations for the faculty, employees and students of the Medical University of South Carolina. The Catalyst Online editor, Kim Draughn, can be reached at 792-4107 or by email, catalyst@musc.edu. Editorial copy can be submitted to The Catalyst Online and to The Catalyst in print by fax, 792-6723, or by email to catalyst@musc.edu. To place an ad in The Catalyst hardcopy, call Island Publications at 849-1778, ext. 201.