During the August MUSC board of trustees meeting, trustees voted to approve a new chairman and vice-chairman for a two-year period. Tom Stephenson, Esq., was elected board chairman and James E. Wiseman, DMD, was elected vice-chairman.

Stephenson has served on the board since 1998. The lay representative from Congressional District 4 and Greenville attorney received both his bachelor's and law degrees from the University of South Carolina (USC). Stephenson has practiced law since 1979.

He represents clients in commercial and employment matters and has been consistently recognized by "The Best Lawyers in America" and as one of the "Top 25 Attorneys in South Carolina" as published in South Carolina Super Lawyers. Stephenson's contributions to public service have included president of the Legal Services Agency of Western Carolina; president of the Greenville Cancer Society; Greenville Civil Service Commission member; and 300 for Greenville. He and wife, Dianne, live in Greenville and have two adult children.

Wiseman was elected as the lay representative from Congressional District 5 in 2002, and is a retired dentist and member of the S.C. Dental Association. He is past president of the Central District Dental Society and past president of the S.C. Academy of Practice Administration. Wiseman is a graduate of USC and obtained his doctor of dental medicine degree from the University of Louisville in 1959. Wiseman is the recipient of many awards, among them the Governor's Rural Summit Award, Woodrow Wilson Award, Order of the Palmetto, S.C. Dental Association Citizenship Award, and the S.C. Downtown Development Award. Wiseman currently serves on the Board of Directors of the Newberry Federal Savings Bank and is Chair of the Newberry Opera House Foundation. He served on the Newberry City Council from 1991 to 2000.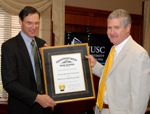 MUSC President Dr. Ray Greenberg, left, presents the Order of the Palmetto award to Dr.Charlie Thomas. Thomas served as chairman of the MUSC board of trustees from 2006 - 2010.


Also during the meeting it was announced that Charlie Thomas, M.D., who is stepping down as MUSC board of trustees chairman, was recently awarded the Order of the Palmetto from the South Carolina governor's office. This award is the highest civilian honor for service in South Carolina. In a letter from Gov. Mark Sanford, Thomas was praised for the outstanding service he has provided orthopaedic patients in the Greenville area as well as for earthquake victims in Haiti, and for his service on the MUSC board of trustees for the last 15 years.
Friday, Sept. 10, 2010